Choosing The Right Puppy
Thu, 30 Apr 2020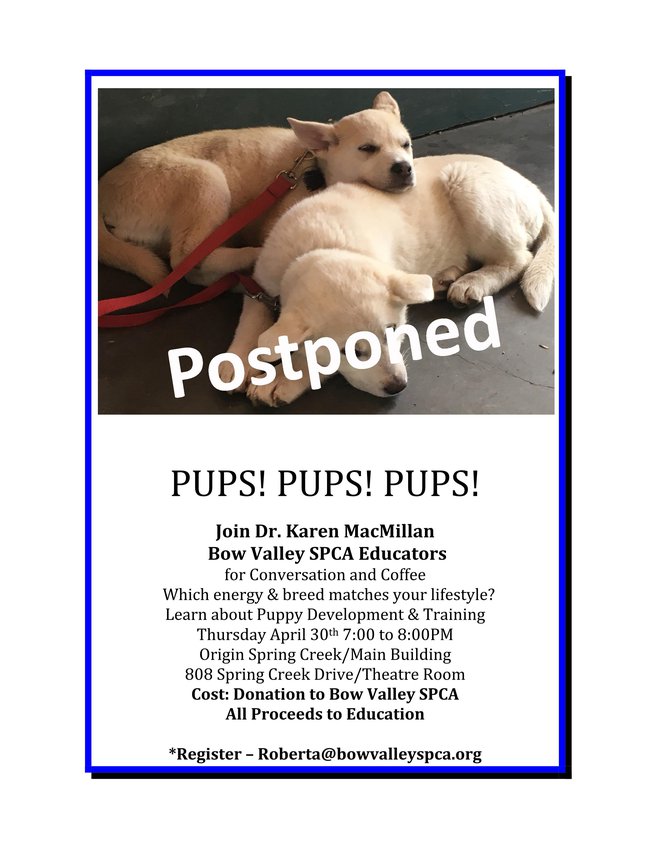 Dr. Karen MacMillan and Roberta Richardson host a session on Choosing The Right Puppy from 7 PM to 8 PM at Origin Spring Creek/Main Building/Theatre Room located at 808 Spring Creek Drive in Canmore, Alberta
Dr. MacMillan who has over 20 years of experience will talk about the importance of researching your options of Breed, Mixed-breed, and sources where puppies are available.
Other topics to be discussed:
Preparation for Puppy's Arrival
What To Teach Your Puppy
Training Resources
Training Your Puppy
Questions
Puppy Classes offered in the Bow Valley (Please call clinics for details):
Canmore Veterinary Hospital
Bow River Veterinary Centre
Adolescent and Adult dog training classes are offered by the Bow Valley SPCA. Essential Life Skills Dog Training is a 4 week course (one session per week for 4 weeks) held at the Carla Cumming Sojonky Adoption Centre.
Contact Name:
Roberta Richardson
Email:
roberta@bowvalleyspca.org
Website:
http://www.bowvalleyspca.org