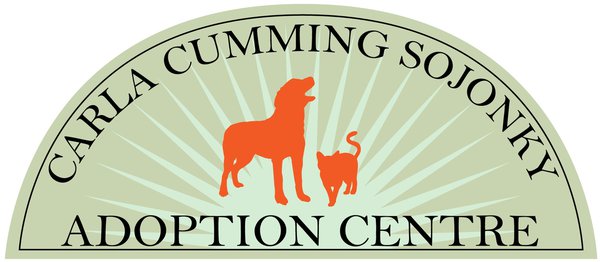 The Carla Cumming Sojonky Adoption Centre
Named for the generous donation from Frank Sojonky for his wife, Carla Cumming Sojonky, The Carla Cumming Sojonky Adoption Centre is no ordinary animal adoption centre.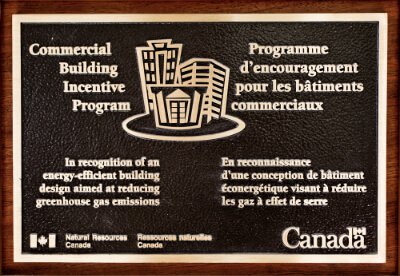 Some of the features that make this a pioneer in progressive design for animal adoption are:
No-kill, No-cage - Adequate space and equipment to care for animals over the long-term. Small cages, short dog runs and cramped quarters are replaced with "dog cabins" and "cat chalets", indoor and outdoor play areas, and a more people- and animal-friendly environment.
Behaviour improvement strategies for dogs - Reduced Barking and Aggression: Visual access to the corridors is de-emphasized and in-room stimulation is increased through a home like environment.
Behaviour improvement strategies for cats - Reduced Stress: Co-housing and play structures provide socialization, stimulation, and compatibility, as well as allow cats to find their own "place" and offer security.
Energy efficiency - Centre is close to 60% more efficient than code. Passive Heating and Cooling Techniques: Natural ventilation is used as much as possible by incorporating these techniques into the HVAC systems.
Air ventilation systems -100% Outside Air: Distributed throughout the animal spaces.
Natural lighting - Better Sense of Day and Night for Dogs and Cats: With a southern orientation and sun shade elements, daylight is incorporated in all spaces, all year round.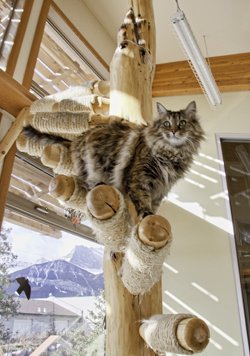 Nestled in the heart of the Bow Valley, visitors will find the Carla Cumming Sojonky Adoption Centre conveniently located off Elk Run Boulevard in Canmore, Alberta. The 2.2 acres of provincially leased land has panoramic mountain views, natural green-space and easy visitor access. The building is 3500 sq. feet designed with the surrounding community in mind. With a southern orientation and sun shade elements, daylight and mountain vistas are incorporated in all spaces, year round. With a large off-leash park, wooded walking trails and secured fence line, visitors will have a safe and enjoyable experience.
Our Healthy Home Commitment – to you, our orphaned animals and our planet:
The Bow Valley SPCA is proud of our Adoption Centre design that respects and adheres to best green and animal friendly practices. Thanks to the volunteer leadership, management and construction by Robert Mitchell Masterhomes, our Centre adopts technologies, products and practices that ensures healthy indoor air quality, greater energy efficiency, reduced overall GHG emissions, reduced water usage, preservation of our natural resources, reduced animal stress, noise, light and chemical pollution, and improved durability and maintenance. We have built a home that respects the health and well-being of dogs/cats, but also people and our environment.
Our Fiscal Commitment – to you, our donors and our community:
We greatly appreciate the hundreds of hours and in-kind materials Robert Mitchell Masterhomes and so many others provided including everything from recycled timber donations to time spent securing energy cost savings and materials. As a charity, fiscal prudence is essential and it is the volunteers and donors, who believe in treading lightly while at the same time minimizing costs, that helped us lead the way in this innovative no-kill, no-cage Adoption Centre design.