Pet Therapy Volunteer Program
The Bow Valley SPCA Pet Therapy Program was created to reach people across the Bow Valley who are ill, lonely, or in crisis as well as at community and special events. Our Pet Therapy Teams bring much comfort, joy, and companionship to members of our community who reap the benefits of the unconditional love and companionship provided by our four-legged friends.
Why Therapy Dogs?
The Bow Valley SPCA Pet Therapy Program allows volunteers and their dogs to visit patients in hospitals, long-term care, and senior's residences on a regular basis. Our Pet Therapy Teams can also be found in schools, libraries and at community events. Individuals benefit both physically and emotionally from the unconditional love provided by dogs. Benefits include:
Non-judgmental Companionship
Comfort
Calming Presence
Interaction & Communication
Memory & Social Stimulation
Reduction in Stress & Anxiety
Reduction in Blood Pressure & Heart Rate
Our volunteers also benefit from being part of the Program. They get to spend quality time with their best friend, meet new people, provide a much-needed service to their community and most importantly - make someone's day brighter by visiting with their dog!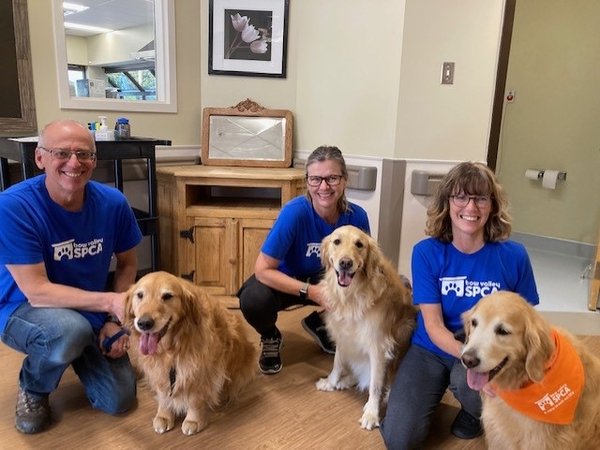 Program Requirements
To become a volunteer with the Bow Valley SPCA Pet Therapy Program, volunteer handlers must:
Be 18 years of age.
Be able and willing to commit to regular visits.
Complete both Therapy Dog Volunteer and BVSCPA volunteer applications.
Bring your dog to a Therapy Dog Evaluation (details below).
If your dog passes the Therapy Dog Evaluation, you will be required to provide a recent Criminal Record Check and/or Vulnerable Sector Check.
Enroll in and complete our on-line Volunteer Orientation Program within four weeks of your dog's assessment.
Pay the program fee of $25 which includes a volunteer T-shirt.
Provide a copy of your dog's latest vaccination records.
Dogs must meet the following requirements:
Be a minimum of 2 years of age.
Be spayed/neutered.
Have up-to-date rabies and DAP vaccinations.
Have lived with you for at least 6 months.
Be healthy for the visit.
Be clean and well groomed.
Handlers must meet the following requirements:
Be friendly with a natural ability to engage with people.
Be healthy for the visit.
Be aware that you are visiting people in their homes, so ensuring their privacy is key.
Be aware of the exterior weather conditions so that you can ensure that both your dog and you will have dry shoes and paws for the visit.
Ensure your dog has adequate time to be toileted prior to the visit with their waste properly disposed.
Dog Therapy Evaluation
During the evaluation, handlers and their dogs will be put through several situations, stressors and challenges that may mirror a therapy dog visit. The test will evaluate the dog's temperament, sociability, obedience skills and ability to follow their handler's lead. It is key that the dog must not show any signs of aggression including barking at other dogs or humans during this evaluation.
Interested? Click HERE to get started!