Invest in Their Future
Please help save lives today! Abandoned animals depend on people like you who care about them, who advocate for them, and who enable organizations like the Bow Valley SPCA to help them.
Adoption fees, special grants and fundraising events cover only about a quarter of our annual operating costs at about $350,000 per year. Gifts of any amount are therefore always received with immense gratitude. Consider making a one-time donation or becoming a BVSPCA Hero by giving a monthly gift to help us continue to Make a Difference and Change Lives.
Monthly gifts provide consistent support to our organization. They allow us to plan, to intake more cats and dogs, and to provide lifesaving medical treatments. When you become a BVSPCA Hero, you become an invaluable part of our team! We currently (2022 and 2023) have an amazing match for monthly donors that will double your impact! Any new donors (new to the BVSPCA) that become monthly donors will have their annual donation matched dollar-for-dollar by the Tanner Family!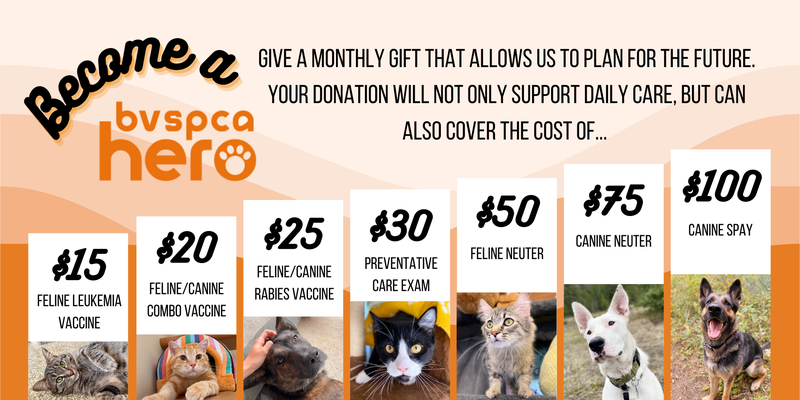 Your monthly gift can be easily changed at any time. You will receive a tax receipt at the end of the year. For alternative Planned Giving options, please click here