Adoption Fees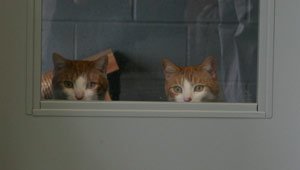 Fees
Dogs
| | |
| --- | --- |
| Puppies under six months | $385 |
| Dogs 6 months - 7 years | $310 |
| Senior dogs over 7 years | $260 |
Cats
| | |
| --- | --- |
| Kittens under six months | $285 |
| Cats 6 months - 10 years | $210 |
| Senior cats over 10 years | $160 |
| Bonded Pair | 50% discount on second cat |
Please note that we do not do same-day adoptions. Once you have chosen to adopt a particular dog or cat, you will need to go home and make sure this is the right decision for your family. If you are adopting a dog, you will need to arrange to bring your dog (if you already have one) in for a dog meeting. Some of our dogs require multiple meet and greets before you can proceed with adoption.
Once you are sure you have found your perfect furry friend that is a good fit for your lifestyle, you can make an appointment with our Adoption Centre Manager, and she will complete the paperwork with you. Payment will be due at the time of pickup. There is no fee to hold an animal for a short time period, but there may be a fee (agreed upon by the Adoption Centre Manager) if you require a longer period of hold.
What is included in the price?

Microchip

Spay/Neuter, if not already completed

Complete set of vaccinations to date including rabies and parasite medication

Starter Kit (food samples, information on pet history, adoption centre observations)

LOVE, FOOD, SHELTER, and CARE from the Bow Valley SPCA for the time leading up to your adoption!

Surrender Fee for people wishing to surrender their dog or cat = $200
We are a limited admission centre and restrictions may apply to a surrender.
Click here for more information on surrendering a dog or cat.