Endowment Fund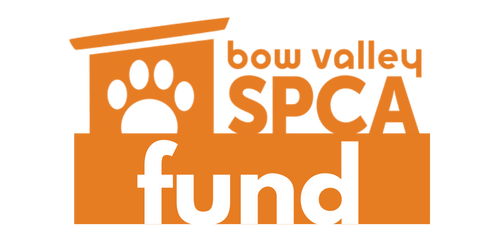 Forever. The ultimate gift. A forever stream of income to sustain our no kill, no cage adoption centre. Shelter, care and adoption for our abandoned cats and dogs. Forever.
How Does an Endowment Work?
An endowment fund is a long-term investment managed by a foundation. The amount donated into the fund is never spent. Instead, the money is invested, and the income is sent back to the owner of the endowment fund.
Investments in our Bow Valley SPCA Fund are held securely by The Calgary Foundation (est. 1955). When you invest in our endowment fund, your money is in excellent hands. The Calgary Foundation's objectives are to invest your money so that it earns an average 5% rate of return over the long-term and to preserve and extend forever the amount of your initial legacy gift.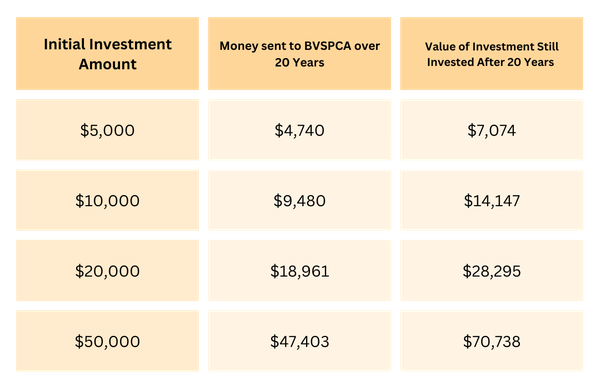 Click here to explore the Calgary Foundation endowment calculator
Our Vision
Our vision is to create a sustainable stream of revenue to cover the costs of operating the Bow Valley SPCA at the Carla Cumming-Sojonky Adoption Centre. Our goal is to raise $1 million over the next 10 years which will provide us with $50,000 of sustainable operating revenue annually.
Fund History
Established in late 2020, the Bow Valley SPCA Fund is a permanent endowment fund designed to provide a secure source of operating income in perpetuity.We extend enormous gratitude to our seed investor, our centre's namesake, Carla Cumming-Sojonky, for trusting in and investing with us once again. We gratefully acknowledge our anonymous benefactor who jumped on board without hesitation to gift us an additional amount to provide a combined $50,000 kick start to this permanent legacy fund. With an additional contribution from our anonymous benefactor and a contribution from the Bow Valley SPCA ourselves, the fund currently sits at $130,000 which is that much closer to our $1 million goal.
Legacy Gifts
An endowment gift to the Bow Valley SPCA Fund will help ensure that your legacy of caring continues to help dogs and cats today and tomorrow. This permanent tribute to support animal welfare will extend for generations to come and serve as a reminder that our fuzzy, furry, big and little companions have received your help.
Will you consider making a forever gift to the BVSPCA?
If you find yourself curious to explore the concept of long-term sustainable philanthropy for the Bow Valley SPCA, we encourage you to:
Email the Bow Valley SPCA Treasurer (treasurer@bowvalleyspca.org) and/or President (lisa@bowvalleyspca.org) to arrange a confidential information-gathering meeting
Explore the multitude of information on The Calgary Foundation web site
Examples of Types of Gifts accepted by The Calgary Foundation are as follows:
Cash
Securities (e.g., bonds, mutual fund units, stocks, options)
Bequests by will (i.e., as a 'future' gift)
Life insurance (where the Bow Valley SPCA Fund is the named beneficiary)
Real estate
Other – Shares, Trust Funds, RRSP Accumulations
Please note that the donor must select the "Donate to an Existing Fund" button, and then pick "Bow Valley SPCA Fund" from the dropdown list.