Dog Training - Essential Life Skills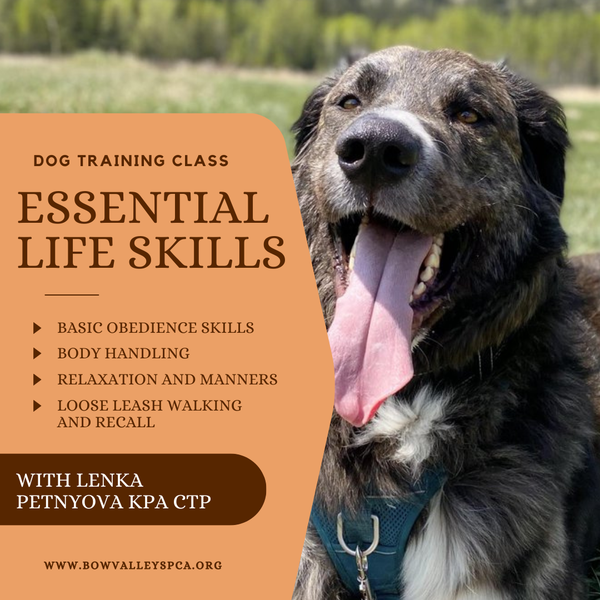 Classes are now finished for the season. See you in the spring!
Group Class Overview
The Bow Valley SPCA is offering dog training classes that will be focused on teaching "Essential Life Skills" to dogs and their human companions. This course is for dogs 6 months and older. Learn foundation obedience skills, self control, and polite manners throughout class to incorporate into everyday life. 100% of the net proceeds from your registration fee goes to the SPCA, so not only are you helping your dog by attending, but you are helping our dogs too!
Classes will be limited to 6 dogs with 2 adult handlers per dog (one primary handler that will attend each week, as material is cumulative), and registration is on a first come first served basis. Please note that your registration will not be considered complete until payment has been made and vaccination records have been submitted. Rabies, Bordetella (Canine Cough), and DAPP are required vaccines! Your dog must be fixed to partake in class - please contact us prior to registering if your dog is not spayed/neutered.
The courses will be held at the Carla Cumming Sojonky Adoption Centre. Class cost is $299.00 for a 5 week session.
Current Booking: Classes are now finished for the season. See you in the spring!
Detailed Course Description
Essential Life Skills
Want a dog who doesn't jump all over your guests, and won't try to steal dinner off your plate? A dog who comes when called and doesn't take you for a walk? A dog who's happy at the vets and groomers? Then our Essentials Life Skills class is for you!
This class is designed for friendly adolescent and adult dogs who could use some help polishing up their manners. We teach the basic behaviours using fun exercises and games so that you can have a dog who is truly a joy to live with!
Here's What We'll Cover
Basic obedience skills (name attention, sit, down, leave it, drop it)
Body handling
Relaxing on a mat and polite manners
Loose leash walking and recall
What You'll Need
A dog who loves people and other dogs
Treats that your dog finds irresistible and will keep their focus!
Flat buckle quick release collar or harness, tags, and a 6-foot flat leash
And a fun outlook because we're all about making training fun for everyone!
Price: $299.00
Duration: 5 weeks
Session length: 50 minutes
Class size: 6 dogs (Up to two adult handlers per dog, with one primary handler that will attend each week)
Age: 6 months and older
Pre-requisites: No previous training required
Owners must sign a waiver, which includes agreeing not to use aversive/punishment based methods at home. Aversive equipment such as prong collars, e-collars, choke chains and martingale collars will not be permitted in class.
Location: Outdoors at The Carla Cumming Sojonky Adoption Centre
Current Booking: All our upcoming classes are now full. Please email events@bowvalleyspca.org to be added to the waitlist for the next session!
About Your Trainer
Lenka Petnyova
Lenka started agility in 2007 with her golden retriever Taxi, and since then she has competed with 5 different dogs. She represented Slovakia in the European Junior Championship in 2010 and 2011 with her dog Smiley, and she is Slovak national agility judge. She took a break from agility after moving to Bow Valley in 2017. Currently she shares her home with 3 dogs, and is preparing her young dog Shishka for her agility career. She graduated from Karen Pryor Academy and is starting her own private dog training company called Affirmuttive Training and Behaviour, using a force free and positive reinforcement based approach.