Autumn Pet Portraits!
Thu, 23 Sep – Tue, 28 Sep 2021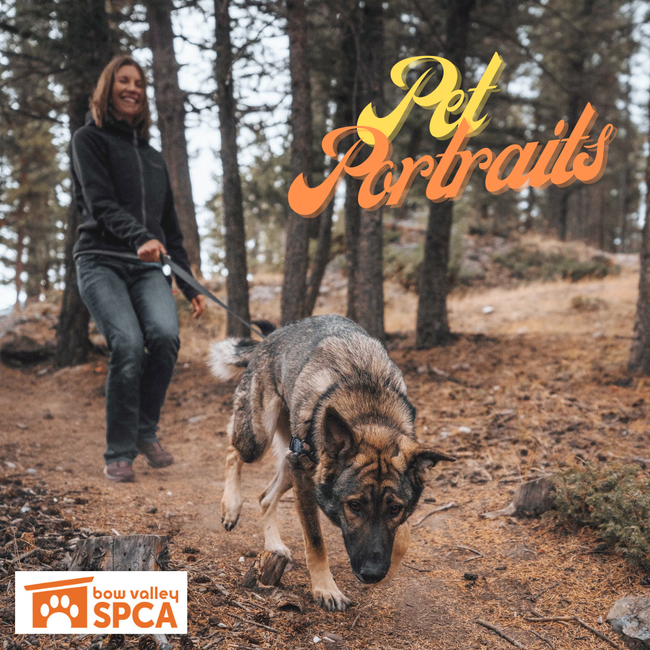 Summary of Event and Photographers:
Autumn Pet Portraits are back once again this year, with two brand new locations to set the perfect fall backdrop to capture stunning portraits of you and your pets!

Local photographers Pam Jenks, Stasia Schmidt, Neil Bates and Laura Colpitts, are graciously lending their time and stellar photography skills to capture the perfect shot of your pets!
Details:
Photos at Canmore Ranch will be available September 23rd and 24th
Photos at The Fairmont Banff Springs Hotel will be available September 28th - CANCELLED
20 minute timeslots
10 professional digital photos
$75.00 (full proceeds go toward helping animals in need)
Dogs and cats welcome!
Sign up:
Find the location and date you would like and follow Steps 1 and 2! Step 1 you will pay to purchase your ticket, and Step 2 allows you to pick the time slot within that date that works best. Note that you must complete both steps for your registration to be considered complete!
**Note: You will not be picking the photographer, they will be assigned randomly. All of our photographers are very talented and are giving their time and love for free!
Canmore Ranch
September 23rd 9:00AM - 11:00AM
Click here to pay
Click here to select your time slot
September 24th 9:00AM - 11:00AM
Click here to pay
Click here to select your time slot
Fairmont Banff Springs Hotel - CANCELLED due to reinstatement of covid restrictions
*Please note that those that had already signed up for the Fairmont Banff Springs location will be contacted by email to arrange for an alternative date/time and with info regarding refunds