Name the Litter FUNdraising Campaign
Thu, 01 Sep – Sat, 15 Oct 2022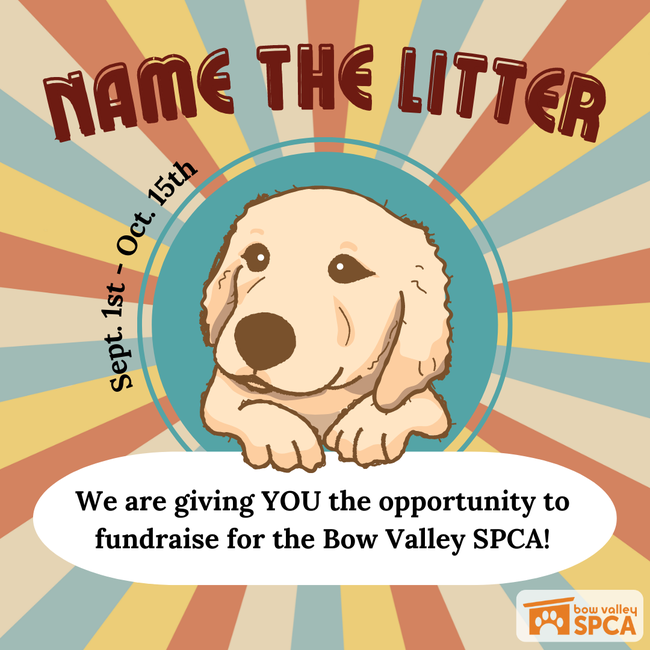 Ever had a great fundraising idea? Now's your chance to put your idea to the test to raise funds for the Bow Valley SPCA! The winner that raises the most will have the opportunity to name our next litter, and more! Read below for details and to register.
We are so inspired by the kids in our community that raise money in creative ways, like lemonade stands, selling friendship bracelets, and donating their birthday money. And the fact that these generous kids choose to donate to help rescued dogs and cats in need instead of keeping the money for themselves is AMAZING!
We were inspired by this idea and wanted to give YOU an opportunity to fundraise for us! But not only will you be raising funds that help us to continue to make a difference and change lives, but there's something in it for you. The person or group that raises the most money for us by October 15th will have the opportunity to name our next litter* of puppies/kittens, plus will get the chance to visit with them before they are available for adoption and receive photo updates as they grow up.
Please fill out the registration form at the below link to participate, and then grab your friends (or fly solo!) and start brainstorming how you're going to raise money for your local homeless furry friends!
There is a poster attached to the bottom of this page for you to advertise your fundraising efforts. Plus, if you email us photos of your fundraiser (to events@bowvalleyspca.org) or tag us on social media, we will share on our social media weekly highlights to boost your reach!
Please bring your cash or cheque donation to our Centre (open Wed-Sat 12:00pm-4:00pm), or make an online donation on our website and indicate in the "message to us" section that the donation is for the "Name the Litter Fundraiser." Donations** must be received no later than October 15, 2022 at 4:00pm to be included in the litter naming competition, and the winning team/individual that raised the most money will be contacted by email by October 20, 2022. We can't wait to see what you come up with!
*Names will need to be approved in advance by the Bow Valley SPCA
**Please note that tax receipts will not be available for the donated amounts
Contact Name:
Daisy Hilchey
Email:
events@bowvalleyspca.org