Portraits of Love
Tue, 04 Jan – Mon, 24 Jan 2022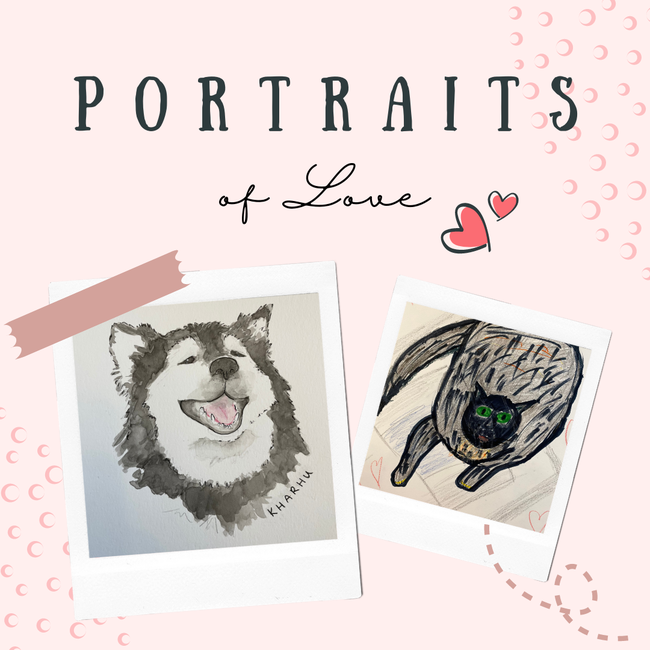 Our Portraits of Love Valentine's fundraiser is back by popular demand! 
To celebrate Valentine's Day, we are offering portraits of your four-legged loved ones! For a $25 donation, we will give you an artist's rendering of your furry valentine.
But here's the catch - we only have a few talented artists (Margo Petroff, Stacey MacMillan, and Claire Beattie), supplemented with a fine group of dedicated volunteers with a lot of heart, yet questionable artistic talent. So you may get a beautiful pet portrait from a skilled artist, or you may get... something else.
Either way, it will be a portrait made with love!
Tickets are on sale now until January 24th to give our artists and "artists" ample time to work on their masterpieces before the grand reveal on Valentine's Day!
CLICK HERE TO PURCHASE YOUR TICKET - Once you have purchased a ticket, please email a photo of your pet, your pet's name, and your first and last name to events@bowvalleyspca.org. Please use the subject line "Portraits of Love" for your email. 
On January 24th, we will draw for whose photos will be transformed into a professional pet portrait (up to 6), and whose will become a volunteer-created interpretation. Once our artists (with and without artistic talent) complete their masterpieces, they will be uploaded on February 14th to our online gallery on our website. If you would like the physical copy of your Pet Portrait, please request in your email.
Contact Name:
Daisy Hilchey
Email:
events@bowvalleyspca.org