Spring Raffle
Fri, 06 May – Fri, 17 Jun 2022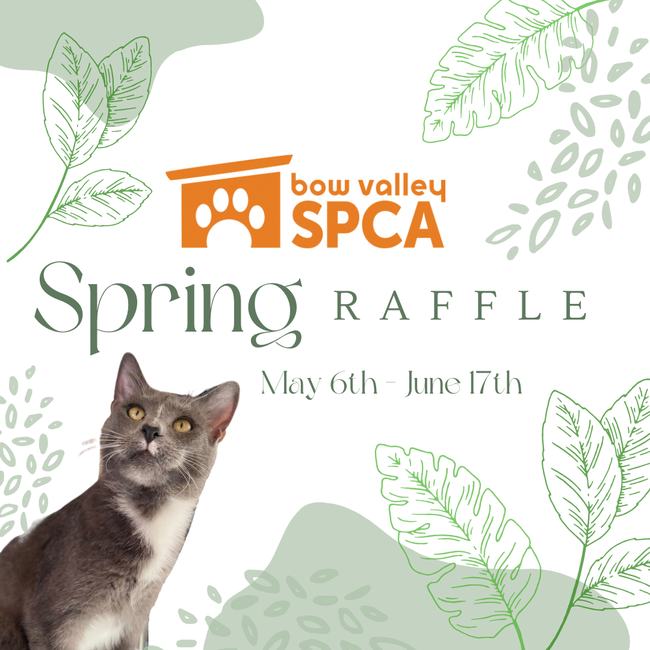 Event Details
Our Spring Raffle is back again this year, and the prizes are better than ever! We depend on generous donations for the care of our furry residents. The funds from this raffle will be used to allow us to keep rescuing abandoned dogs and cats, provide medical treatments and rehabilitation, and most importantly, devote loving individualized care to each and every animal until they find their forever homes. 
Raffle tickets can be purchased from May 6th - June 17th starting at $10.00/ticket, with the draw happening on June 18th at the Carla Cumming Sojonky Adoption Centre. Last year, our 100 for $100 sold out, so grab them before they're gone! Players must reside in Alberta and be 18 years or older. Please note that some of the prizes can only be claimed in the Bow Valley.
The winners will be contacted and must arrange to pick up their prizes from The Bow Valley SPCA in Canmore. Some prizes may be eligible for shipping within Alberta at winner's request and risk. 
Prize Details
Thanks to the support from our generous community, we are raffling off the following great prizes!
Stewart Creek Golf Package $860 Value - Round for 4 players including carts Sunday-Thursday after 12:00pm at Stewart Creek Golf and Country Club (2022 Season)
Generously donated by Stewart Creek Golf and Country Club
Overnight Hotel Stay $800 Value - Enjoy a one night stay at the stunning Fairmont Chateau Lake Louise in a Fairmont Lakeview room including breakfast for two and parking
Generously donated by The Fairmont Chateau Lake Louise
Ski Package $430 Total Value - 1 Adult Nordic Ski Pass (2023 Season) at The Canmore Nordic Centre (value $180), plus a picturesque remarque print of the iconic Three Sisters mountains by Marilyn Kinsella and framed by James Frames to bring a touch of the outdoors to your home (value $250)
Generously donated by The Canmore Nordic Centre and Kinsella Art Studio & James Frames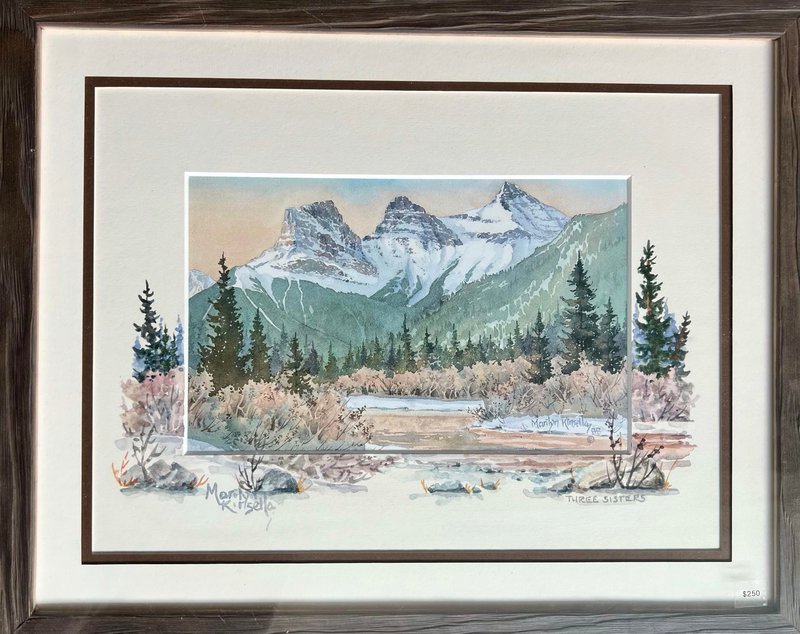 Springbank Helicopter Ride (2 available) $400 Value Each - Enjoy a 30 minute scenic helicopter tour out of Springbank Airport (15 minutes west of Calgary) with stunning mountain vista views for up to 3 passengers!
Generously donated by Mountain View Helicopters
Spa Package $345 Total Value - Enjoy a complimentary 60 minute massage, body or facial treatment of choice with two hours of spa access, at the Fairmont Banff Springs Hotel Willow Stream Spa valid until May 10, 2023 (value $270). This will pair beautifully with a curated chocolate collection from Jacek Chocolate Coutour from Stonewaters (value $75), including the Couture Collection 24pc truffle chocolate box, The Jackie Bar chocolate bar, and a box of Dark Chocolate Almonds.
Generously donated by The Fairmont Banff Springs Hotel and Stonewaters
Picnic Package $335 Total Value - With a $200 Gift Certificate from Valbella Gourmet Foods, and a Moscow Mule Kit from Wildlife Distillery (value $135), you will have everything you need to create a gorgeous picnic spread, complete with a Wildlife toque to keep you toasty during your mountain picnic adventures
Generously donated by Wildlife Distillery and Valbella Gourmet Foods
P.S. Modern Syrup Package $150 Value - Handcrafted syrups made locally in Canmore, Alberta, with European roots as inspiration - enjoy 3 large sized syrup bottles, and 6 small sized syrup bottles
Generously donated by P.S. Modern
Pet Lovers Package $150 Total Value - $50 Gift Certificate for Banff Doghouse, along with beautiful handmade ceramic cat/dog dishes from Pottery by Shannon (value $100)
Generously donated by Banff Doghouse and Pottery by Shannon McDougall
Grizzly Paw Brewery Tour $100 Value - With a Grizzly Paw Brewery tour for two, visit their state-of-the-craft brewery, nestled in the heart of the Canadian Rockies. Their friendly staff will take you through an interactive tour of the brewing process from start to finish while you sample our brews throughout the tour.
Generously donated by The Grizzly Paw Brewing Co.