Agility at Eagle Terrace
Tue, 26 Feb 2019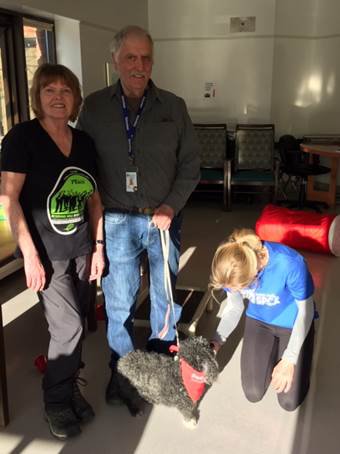 On Monday Feb 25th, three special dogs Made A Difference when they visited Eagle Terrace senior residence at Canmore Hospital. Each dog was accompanied by their pet companions and demonstrated gentleness, patience and unconditional love.
Each dog was led through an agility course, facilitated by Bow Valley SPCA volunteers. Allof the dogs seemed to enjoy the new experience and each showed their trust in their human companion.
Angel, 13 years old, is a trooper; Jen, a working breed Border Collie, approached like an athlete; and Willow, a 3 year old Bernadoodle, was calm and keen to please, The Eagle Terrace residents cheered them on.
Bow Valley SPCA volunteers enjoyed engaging with the dogs, their companions, residents and staff.
Being adopted into forever homes, has changed these dogs lives and they in turn change lives in the community.
Hats off to the volunteers and these special visiting dogs and the difference they make.