BVSPCA Educators Visit Eagle terrace at the Canmore Hospital
Wed, 2 Jan 2019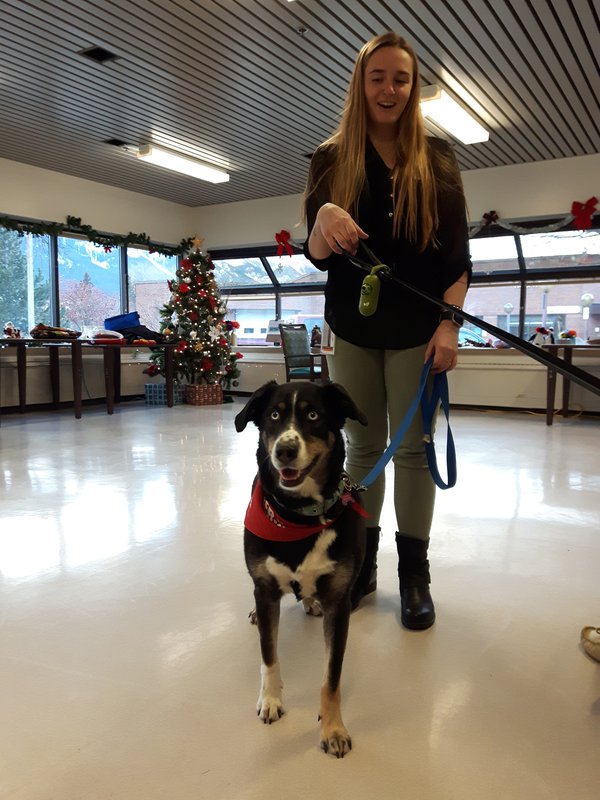 BVSPCA educators visited Eagle Terrace residents in December 2018 showcasing Canmore Hospital Therapy Dog, Sadie.   Her pet companion Teagan walked Sadie through an agility course, focusing  on introducing the dog to new stimuli and reinforcing the bond between dog and pet companion.   Sadie learned quickly and enjoyed the applause she received from residents when completing a new task.
Fun was had by all.  Thanks to Teagan and Sadie their visits are appreciated by residents and shows how animals change our lives.
Sadie's Story--as told by Teagan
Sadie is almost 4 years old, we found her sitting in a field east of Edmonton by my parents place. She was just a pup, we think she was a couple months old when we found her! Sadie gets anxious when I pack my stuff to go somewhere and follows me around hoping that she gets to come with me. Sadie loves to look out the front window of the vehicle and be able to see everything. Sadie is very active, she loves to play with other dogs and also loves to go hiking and running. Sadie gets very excited when she sees a squirrel or bunny, you have to be hanging on tight!