BVSPCA Visits the Bow View Seniors Lodge
Fri, 13 Sep 2019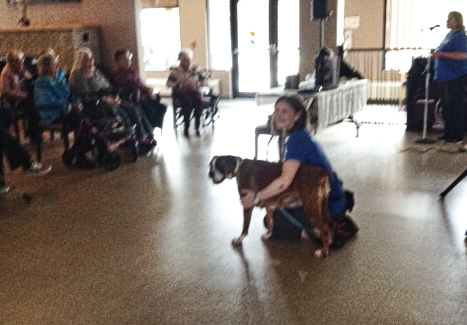 Penny a five year  old, female  boxer was  accompanied Kayla a volunteer of Bow Valley SPCA, visiting   Bow View Seniors Lodge, on Tuesday Sept 10,2019.   Residents were treated to success stories presented  by educators Roberta &  Dawna along with demonstrations from Penny & Kayla.    This loving dog earned her applause being led through agility showing the trust and respect she holds for Kayla.   
Thanks to the Bow View  Lodge staff and residents for their warm welcome.   
We look forward to  reciprocating the hospitality we  received by an  inviting  seniors  to attend a tour, followed by tea, hosted by BVSPCA volunteers.