A Cat and a Ferret Visit Golden Eagle View
Wed, 24 Apr 2019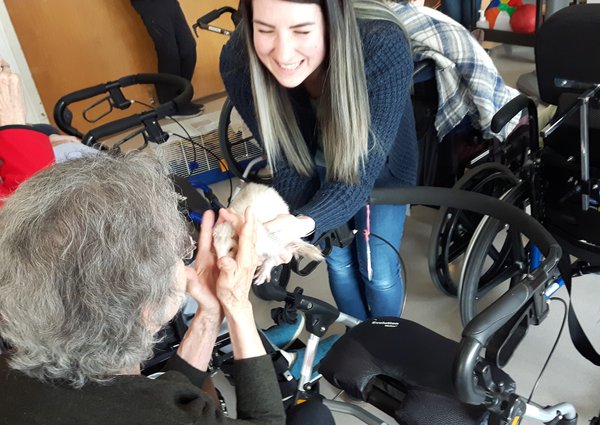 Bow Valley SPCA educators brought special guests to visit the residents at Golden Eagle View pod of Canmore Hospital on Monday April 22.
Two staff members from Bow River Vet Clinic brought their pets to the event. Sonya brought her cat, Lilac, who was adopted from the Bow Valley SPCA. Brook brought Chole, her pet ferret.
Both animals enjoyed the gentle attention they received from residents. All present enjoyed hearing about Lilac's journey--being found very ill living under a deck before arriving at BVSPCA 3 years ago. Lilac was not expected to survive the week-end. Three years later she is a healthy happy cat.
Brook, a Vet Tech taught us ferrets are part of the small Weasel family. Chole is now 6 (ferret's live to 7 years or longer). They are very much like having a cat as a pet. She eats cat food, is litter trained, and spayed. Ferrets are given rabies and distemper vaccines. Like a feline if not spayed or neutered may have average two litters a year, with 3-4 young in each litter.
The BVSPCA would like to thank Sonya and Brook for sharing their precious pets, time and knowledge. Also, thanks to Golden Eagle View residents for their kindness to these special animals and the staff for their warm welcome.