FHO Surgery for Skippy Fundraiser
Thu, 23 Feb 2023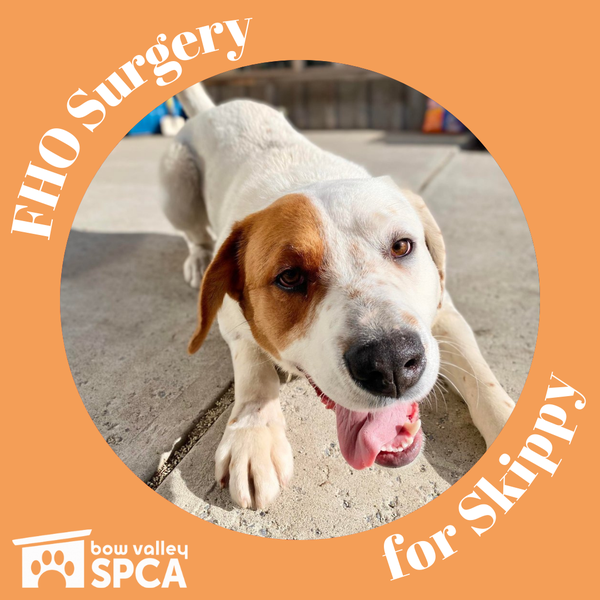 Skippy was urgently transferred to us from Siksika Nation, as they do not currently have a shelter facility. No other shelter in Alberta would take him on, and he was facing euthanasia within days of us hearing about him, as a last resort after exhausting all other options. It wasn't a question that we would step up to get him the care he so desperately needed. After arriving and having his first vet trip with us, it was discovered that Skippy has severe hip dysplasia, likely due to an old injury as a puppy that was left untreated as he was a homeless outdoor dog. Hip dysplasia, particularly as severe as Skippy's, can cause significant pain, chronic inflammation. and mobility problems - all of which decrease an animal's quality of life. Skippy needs FHO (Femoral Head Ostectomy) surgery to correct his malformed hip joint. Our goal is to raise $2600 to help Skippy live a life free from pain.
The funds raised will go directly toward Skippy's FHO surgery, to improve his range of motion and prevent chronic pain and inflammation. It is important for Skippy to receive this surgery while he is still young, to avoid further deterioration. See his x-ray in the photo gallery below.
We want to ensure that Skippy will live a fulfilling life going on all the active adventures he wants - without pain. He deserves it after all he has been through. 
If 130 people donate just $20 each, we will be able to cover the cost of Skippy's surgery. Skippy has won the hearts of everyone that has had the pleasure of meeting him, with his playful puppy-like demeanour and his joyful friendliness. We can't wait to see Skippy live a long, happy, and pain-free life but we need your help!