Rambo--Best Dog at Wedding Ceremony
Tue, 12 Mar 2019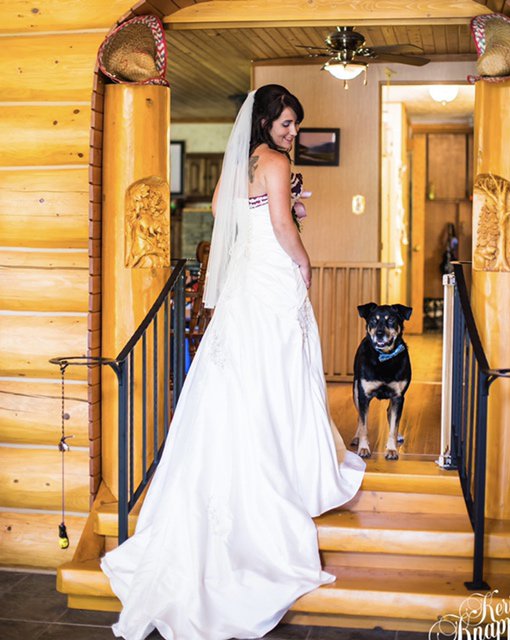 Marika Koncek adopted a dog named Sierra from the Bow Valley SPCA in 2012. Sierra was a bit of a handful but Marika was committed to work with her. And what a success story! Marika got so involved with her work with Sierra that she studied to become a certified dog trainer—resulting in Sierra becoming a great companion and providing Marika with all sorts of insights into effective, force-free training techniques.
But that is just the beginning. Sierra passed away and Marika was looking for another dog. Enter Rambo—another handful, who arrived at the Carla Cumming Sojonky Adoption Centre in early 2016. Rambo was pretty much a more rambunctious, male version of Sierra. So, he became the second "rottie" cross that she adopted from us.
We now go to July 2018, and Marika's wedding ceremony. Here is how Marika describes it.
It was a perfect summer day and we were so lucky to be able to have Rambo there to celebrate with us. The wedding took place at our home so he could be there for the important bits and go and relax at other times. He walked me down the aisle, got to take part in the photo shoot, and joined us for dinner, cakes, and speeches. We never imagined he would be able to do all this but there he was and he did it with a smile.
We have had two sets of family visit with their kids ages 3-11 since the wedding and are amazed at how far Rambo has come with not only meeting people but also learning to ask for affection and respecting the kids. We didn't know what to expect with the kids but after slow introductions over a number of days. He became quite fond of the visitors by the end of their trips.
Not everyone is interested in a "project dog", but for those that are and are committed to working with them, this is a story of inspiration. Marika changed Rambo's life, and clearly he has changed hers—all for the better!