A Summer of Change!
Wed, 5 Jul 2023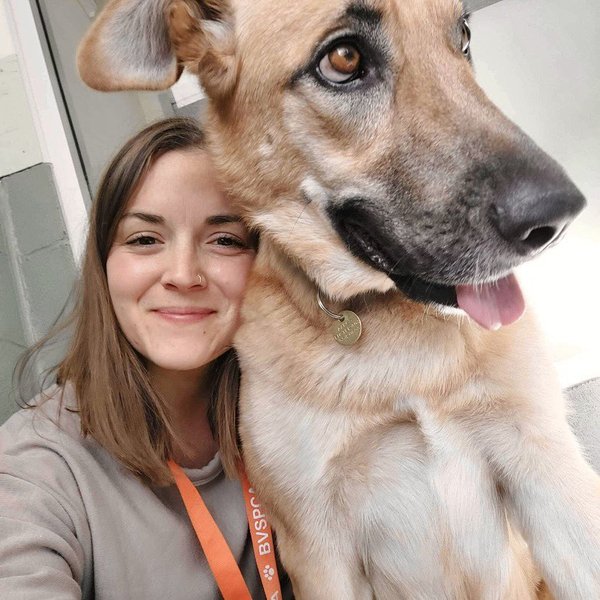 After 5 years with the Bow Valley SPCA, our amazing Adoption Centre Manager Meghan Keelan will be leaving the Bow Valley for new adventures at the end of this month. Meghan is heading to the west coast to pursue her passion for regenerative ocean farming! Her love for animals and the environment has led her from helping cats and dogs to a slightly less cuddly animal kingdom - consisting of oysters, kelp, scallops and mussels.
Meghan joined us as an Administrator in early 2018 and took on the role of Adoption Centre Manager at the end of that year. Meghan has brought a new energy to the Bow Valley SPCA, an unsurpassed level of compassion and care for the animals, a sense of teamwork and thoughtful leadership that has brought staff and volunteers together and, at the end of the day, she has simply made the Carla Cumming Sojonky Adoption Center a better place for the animals and the people that come through the doors.
For those of you who are familiar with our residents over the past 5 years, some of Meghan's most memorable legacies include the successful transformations and ultimate adoptions of our long-term resident dogs Toro (1 yr resident), Fender (1.5 yr resident) and Benji (2 yr resident) – each of whom she poured her heart and soul into with amazing success, of course with the support of our incredible team of volunteers and staff. These dogs' stories truly reflect who we are and what we do at the Bow Valley SPCA.
We are so incredibly grateful for all that Meghan has done for the organization. While we are sad to see Meghan head across the Rockies, we know she will bring all her energy and passion to her new role. She will be Making a Difference in a whole new way. We wish Meghan all the very best as she embarks on this new chapter!
We are excited to announce that Daisy Hilchey, our current Adoption Center Assistant Manager, will be our new Adoption Centre Manager, effective July 24, 2023! Daisy has been with the organization for 3 years and has made an enormous impact in that time progressing through various roles. Daisy brings impressive academic and practical experience with animals, animals care and shelter environments to her new role. We are confident Daisy will keep us moving in the right direction and continue to improve how we rescue, care for and adopt abandoned and surrendered dogs and cats and engage with the incredible Bow Valley community we call home. Congratulations Daisy!