Triple Your Gift!
Thu, 13 Jul 2023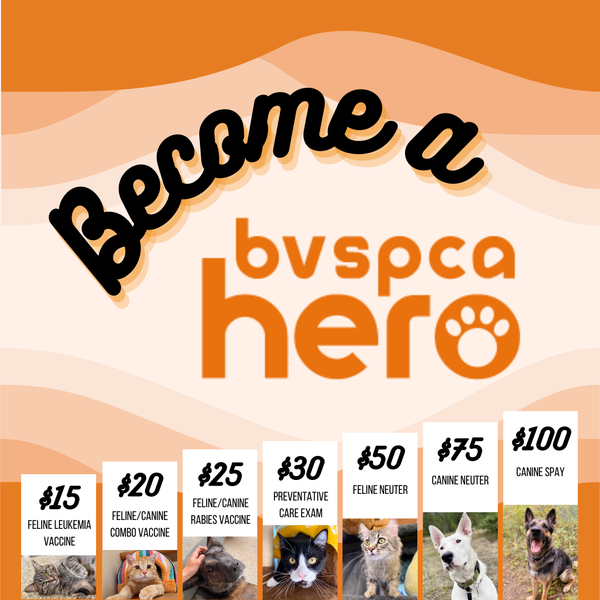 Our monthly donors are BVSPCA Heroes! They provide ongoing support to our organization that provides us the financial security to intake more cats and dogs and to provide lifesaving medical treatments. Our current team of BVSPCA Heroes provide approximately 10% of our operating costs – or over a month of individualized animal care!
Last month, we welcomed 15 new BVSPCA Heroes at our Bark-A-Que to add $385/mo. in new monthly donations! Thanks to a 6-month match from our long-time benefactor, Carla Cumming Sojonky, that amount is doubled until the end of the year. To make the impact even bigger, major donors Nick and Heather Wieler, announced at the event that they will also match 6 months of those new monthly donations! That is almost $7000 over 6 months and is enough to cover the cost of intake exams, annual vaccinations, and fixes for 40 new cats and dogs in our care.
Thanks to the incredible generosity of Carla Cumming Sojonky and the Wielers, we are able to extend this amazing monthly donor matching opportunity until July 31, 2023 to help us reach our goal of 25 new monthly donors this summer. For example, if you sign up this month for $25/mo., we will receive an additional $50/mo. in matching dollars until the end of this year!
We currently have an unexpected pregnant mother dog in our care - Maeve - who is due to have her puppies in August. With a litter of puppies on their way to feed, vet, and care for, for a minimum of 12 weeks before they are big enough to be adopted, it's a strong reminder of the importance of reliable, sustainable income.
Don't miss this great opportunity to maximize your impact and help us grow this much needed monthly support base!