Banff Hospitality Collective Supports the BVSPCA
Sun, 17 Feb 2019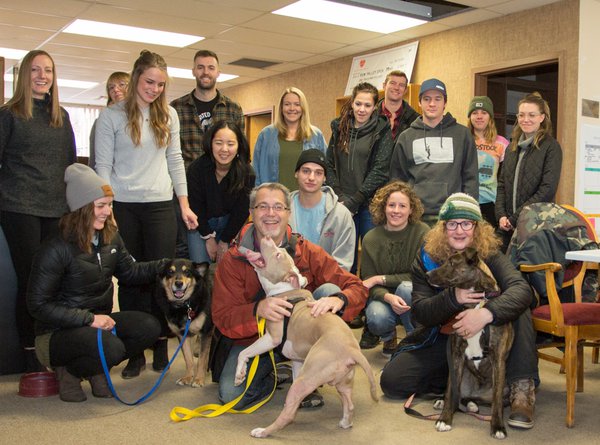 On February 13, 2019, the Bow Valley SPCA received a cheque for over $1600. Hayley Turner, the coordinator for the 12 Days of Christmas Campaign, explained that the front-of-house and the back-of-house staff all contributed half of the funds during  December 2018 campaign. BHC management matched the amount raised by employees, making the total over $1600.
Twenty BHC employees participated in brief educational programs that allowed them to experience first hand force free training of dogs and cats.  Three rescued dogs attended the kick off for the campaign which was held at Mt Norquay.
The Bow Valley SPCA is especially grateful to the BHC for creating a program for hospitality workers (often young men and women who come to the Bow Valley for one or two seasons) to donate back to the community. We are even more appreciative of the support from the hospitality workers.
If our dogs and cats could speak their thanks our adoption center would be a noisy place indeed.
Banff Hospitality Collective is a group of restaurants and night clubs that is 100% locally owned and operated. It was founded by a bunch of friends who love food, drinks, mountains, and this awesome little town called Banff. BHC includes a wide variety of cuisine, entertainment, including bowling, and even it's own distillery.  BHC venues include; Bear Street Tavern, The Bison, Park Distillery, The Maple Leaf, Magpie and Stump, The Eddie, Balkan, High Rollers, Dancing Sasquatch, El Patio, and Chuck's Steakhouse.