Torro Is Available for Adoption
Thu, 7 Feb 2019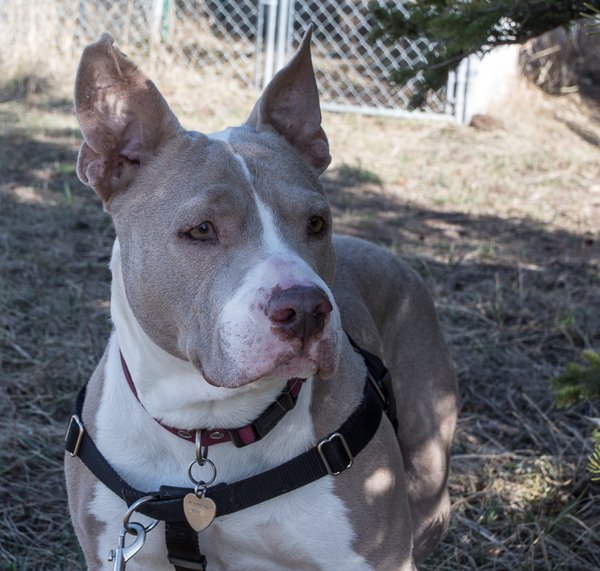 More than a year after his arrival at the BVSPCA, and after multiple medical interventions, Torro is available for adoption.
Torro is a Pit Bull who arrived at the BVSPCA after being rescued in Mexico. Even though he comes from a warm climate, he seems to love the cooler weather here in Alberta.
What is so special about this boy?
He is a survivor. His treatment for cancer was a complete success, he has totally recovered from 2 broken legs, and he gets along just fine without 11 front teeth that had to be removed because they were so badly damaged.
He is gentle with most dogs and he loves people. Big crowds and noise don't bother him at all. He's worked as a greeter at the shelter and even attended the Banff Hospitality Collective appreciation party at Mt. Norquay! He was the star of the show and got up on stage to accept an award.
He is super gentle when taking treats, he walks without pulling on his leash, and he knows his basic commands (sit, stay, down).
He is incredibly handsome, and he scores pretty high on the snooze/laid back scale. He likes to walk, but is very content to watch the world go by when left to his own devices.
He likes car rides and enjoys visiting new places.
So why is he only now becoming available for adoption?
As mentioned, he had to undergo chemo-therapy for about 5 months as well as physiotherapy on one of his broken legs, and treatment for the canine version of Lyme's disease.
During the chemotherapy, he got pretty testy with the vet techs that were inserting needles into veins as often as 4 times a week. By testy, we mean he had to wear a muzzle because he would snarl when they came near with the needles. This is the only time we have observed this behaviour from him.
Because he is a Pit Bull and they have an undeserved reputation. We wanted to be absolutely sure Torro could get along with other dogs and understand how he reacts to strangers. Thus, we extended his behavioural training to make sure he was getting the best treatment available, ensuring he is comfortable in various life situations.
What does an adopter need to know for a successful adoption?
He can grow very fond of a particular toy (currently it is a pink rubber bowling pin), and when he is playing with it or holding it in his mouth, he will try to guard it by giving a deep growl. We know he is serious, and we respect his choice by leaving him alone until he loses interest.
Some days, he is not hungry, other days he eats everything offered to him. This just seems to be his natural rhythm. We have had extensive trips to the vet to uncover a medical reason for this eating pattern, but we can't find anything physically wrong.
We know he will be nervous with veterinary medical procedures. We have trained him to accept a muzzle. It should always be used for any medical procedures. If possible, we would like to chat directly with the vet who will be looking after him so we can discuss the behaviour we have observed, where it comes from, what we have done to prevent it, and what everyone can expect when Torro visits the vet. We want to make his first experience with a new vet a positive one!
While he gets along with most other dogs, we don't recommend taking him to a dog park. Because of the surgeries to fix his legs, he can sometimes get tired in his back end and lots of heavy play with other dogs can make him sore. He is happy with short, one-on-one play sessions with his close buddies and walks and love from the people in his life!
He loves to cuddle! He also loves to give a big face lick when given half a chance. Be prepared!