Become a Hero to: Fender
Fri, 30 Jul 2021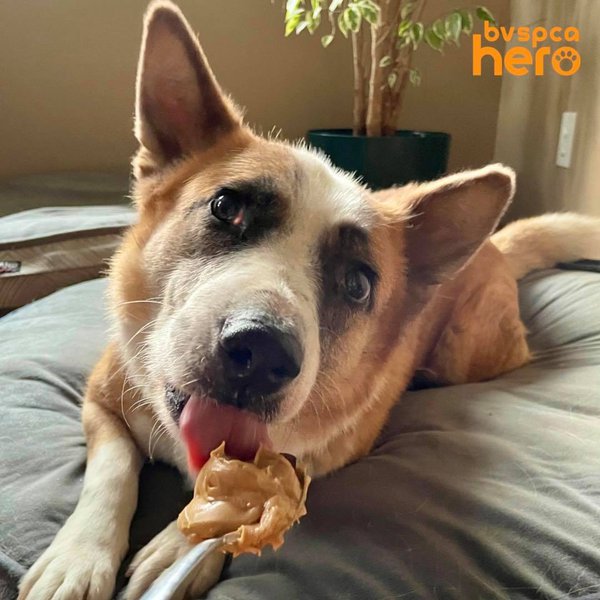 Be a hero to Fender! We are SO CLOSE to our goal for the launch of our BVSPCA Heroes campaign! We only need 3 more monthly donors of $20/month to reach our goal! We have extended our 20X match, generously donated by local realtor Rob Stevens and wife Melissa Hubbard-Stevens, until August 7th to try to reach our goal!
Monthly donors are Fenders heroes! Fender is a feral dog that came from rural Saskatchewan, who had little experience with humans. We knew it would be a long road to help Fender learn that humans are kind, but also knew it would be well worth the effort to keep him safe and for him to finally know love! Monthly donors are critical in helping to care for long-term residents like Fender, who need the extra time and resources to progress. Fender lives in a foster home and is on medications which help to control his anxiety. While Fender hasn't yet warmed up to physical touch, he will approach humans for peanut butter and cheese whiz, and may even let you pet his cheek as a reward. Fender is a particular gentleman however, and scoffs at off-brand peanut butter, insisting only on Kraft brand. Your monthly donation helps to keep Fenders belly full of high quality treats, in the hopes that we may some day earn his love! While we are (partly) joking about the cost of peanut butter, our monthly donors truly are Heroes to the dogs and cats that require a longer stay to become their best selves.
Link below to become a BVSPCA Hero!
https://www.canadahelps.org/.../campaign/bvspca-heroes/...