Christmas Tea With Seniors
Mon, 17 Dec 2018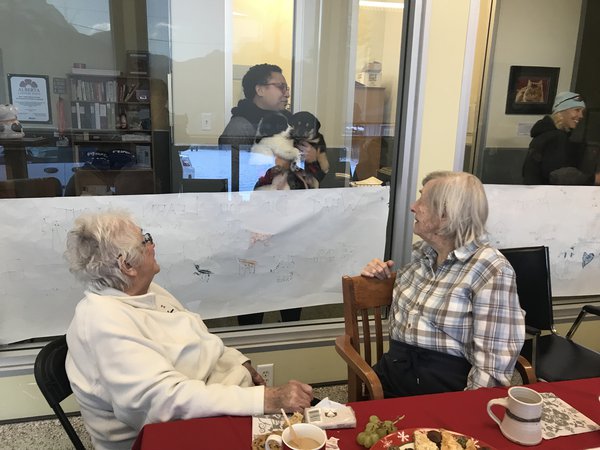 On Tuesday, December 4th, Residents of Origin Spring Creek enjoyed a Celebration of Christmas by attending a tea at the Carla Cumming Sojonky Adoption Centre and visiting with Resident Animals. The event was hosted by the Bow Valley SPCA Education Committee.
The seniors enjoyed hearing of the new Campaign called, "Changing Lives".
They learned about the journey of kittens and puppies who had a rough start in life and how their lives changed since coming to BVSPCA. The listened to stories about the care and love these animals received from staff and volunteers during their stay. They learned that in several recent cases healthy kittens and pups found in the wild with their moms, with almost no chance of survival, are now healthy, happy and thriving. Jigsaw (mother cat) and Grace (mother dog) along with their seven kittens and 3 puppies will now all have a second chance at life
Stories were shared by the seniors about the animals they adopted and cared for and their adventures with these pets. The guests were interested in the vision and mission of BVSPCA and expressed respect for the work being done in their community for animal welfare.