Volunteer Appreciation Week 2020
Tue, 5 May 2020

April 19th marked the kick-off for National Volunteer Week in Canada, and although the timing fell as we experienced unprecedented times due to the COVID-19 crisis, with the Centre closed, and we missed seeing the smiling faces of our Volunteer team, we couldn't let the week pass without expressing our appreciation. 
The Bow Valley SPCA posted throughout the week on Facebook to recognize and thank each & every Volunteer for their tremendous contributions; we couldn't be more thankful and certainly couldn't do it without them.
Last year we were the proud recipients at the Mayor's Awards of Volunteer Excellence (Canmore) in the Not for Profit Volunteer group category. It's humbling to reflect on the impact our Volunteers continue to make in fulfilling our Mission to:
"Provide our community with an adoption centre following a no kill, no cage philosophy to shelter, care for and re-home stray and abandoned dogs and cats and promote humane attitudes and responsible pet companionship through educational programs and community leadership".
Each person contributes in different ways, whether with animal care, socialization, centre greeter, training, programs, fostering, community outreach, events, education, maintenance, fundraising/fund development, animal transportation, yard clean up etc., or Board participation; each task, no matter how large or small, is important and makes a difference.
Here's a summary of the posts showcasing our volunteer contributions through social media channels.
Stay safe & well. We look forward to the day we reopen the Centre to the public and invite our volunteers to come together to celebrate!
Make A Difference, Change Lives, Adopt. Love.
Thank you to each of our Volunteers!

Thank you to - Our Puurrfect Programers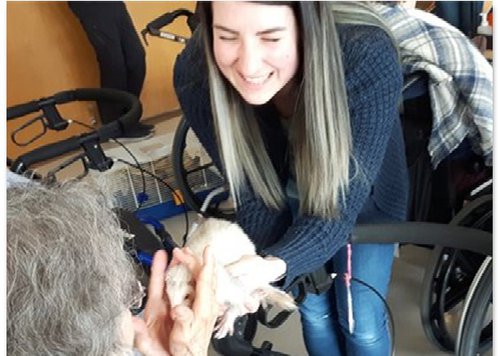 Did you know our volunteers are the reason we can offer programs and community outreach through our centre?!
Essential Life Skills, Leash Lovers, Rocket Recall, Puppy Socialization Class, Open Paws and personalized dog training using force free methods are regularly offered by experienced volunteers, providing dog owners the skills & confidence to ensure their pups are well mannered Bow Valley citizens.
We charge a nominal fee for certain training programs, of which every $ is a direct donation to the shelter in support of our expenses. We are in awe of the enthusiasm and effort that goes into everything these volunteer facilitators do!
Volunteers visit schools, host school groups at the centre and bring therapy animals to nursing homes and the long-term care residence wing at the Canmore Hospital. We would not be able to offer these programs without our amazing volunteers.
Our 'Dog Team' also contributes greatly to the success of our adoptions, by volunteering time around their full time jobs, helping our resident dogs integrate successfully into their new homes, working one-on-one with the adopters and their new pooch!
Thank you to those volunteers who have helped and continue to help our organization touch the lives of dogs & their owners, and of those who need some animal love, within our community!
Thank you to - Our Dedicated Doggy Walkers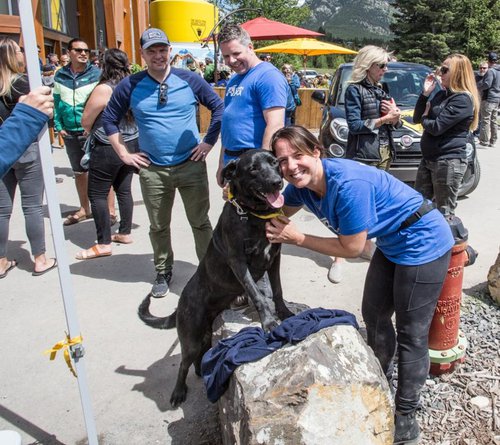 Volunteers are drawn to helping with our dogs for many reasons. Some are "locals" with a passion to support the Centre & our dogs, others come from across provinces or oceans who miss their family pets, some have lost their furry companions and are not yet ready for another, and then there are those who live in non-pet friendly housing. What they all have in common is their love & compassion for dogs and walking!
Regardless of their reasoning, our dogs' standard of living while at the centre is enhanced greatly by these individuals! Our volunteers who regularly walk our dogs often contribute too to the individualized training of the ones that need a little extra help. They learn a lot about the dogs and the dogs learn a lot from them!
Thank you to those volunteers who help our dogs live their best lives, ensuring they are ready when the time comes to go to the right furever home!
Thank you to - Our Kind Cat Cuddlers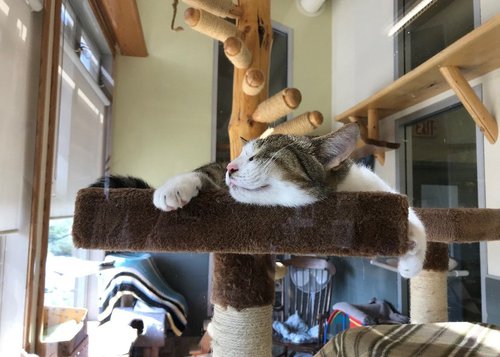 We have some of the luckiest cats around! Our cat cuddlers are a special group of people. They frequent our feline friends' chalets and give them everything from cuddles, to mani-pedis, to rowdy play times! It's not all fun and games for them though. Most of our cats come to us as strays, ex-farm cats, or as surrenders. Usually guaranteeing timid, anxious, fearful or feral demeanors. A lot of times volunteers spend hours sitting with those cats who are too scared or anxious to come out and socialize. Their dedication always pays off. Without the continual visits from our cat cuddlers the adoption success rate of our cats would drop.
Thank you to those volunteers who give our cats a chance by enriching their lives while they are with us.
Thank you to - Our Gracious Greeters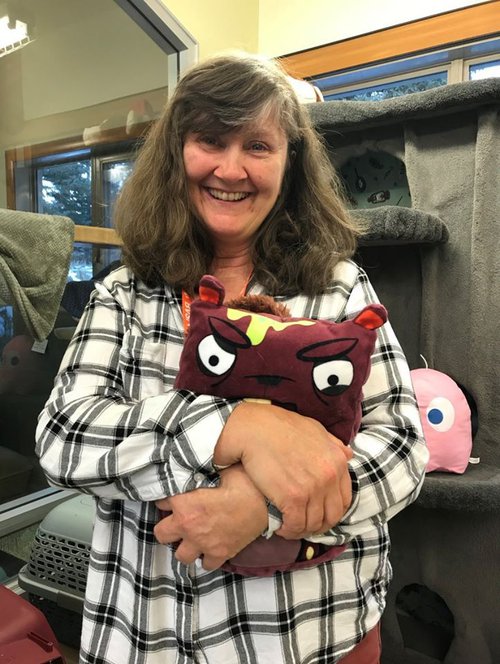 If you have ever popped into our centre you will be greeted by a smiling face every time! These are our centre greeters. A volunteer position we piloted about two years ago and we are never going back!! Our greeters answer our phones, welcome visitors and hold down the fort so our staff members can manage their tasks with ease! We are lucky enough to have a handful of regular greeters who have their set shifts and re-book week after week, month after month, and we also appreciate those who simply help when they can! Greeters do more than supply their winning smiles to the public, they are a huge support system for our staff and advocates for our furry residents. Our greeters learn all about the inner workings of our shelter and are educators for the community while on the clock!
Thank you to those volunteers who make our community feel welcome and for supporting our staff during their work days.
Thank you to - the "all other duties as assigned" volunteers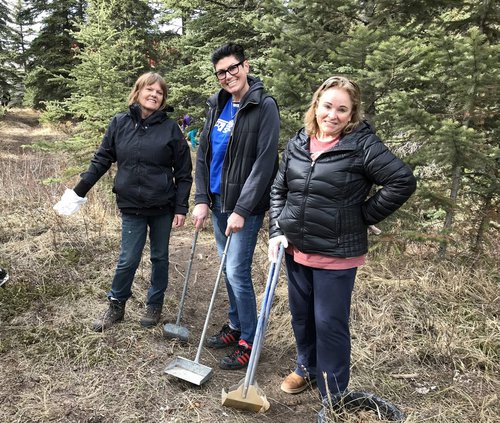 As National Volunteer Week begins to draw to a close it seems there are insufficient days to recognize our volunteers for the plethora of assorted assignments and everything they do.
We are blessed with contributors doing many random tasks; some are hands-on shelter needs such as deep cleaning of kitty litter boxes, recycling, organizing our donation/storage shed, yard work, poop patrol, or building maintenance.
Others use their unique skill sets to help us with technology, graphic design, guiding our strategic planning, organizing & executing events and more.
And then there are talented individuals who use their photography skills, whether to share our successes through local newspapers, to showcase the cats & dogs on the website adoption section, or to take pet portraits in the community for fundraising initiatives such as the Fall program and Santa photos.
For all these things and many more – thank you to our volunteers!
Last, but not least, thank you to - Our Brilliant Board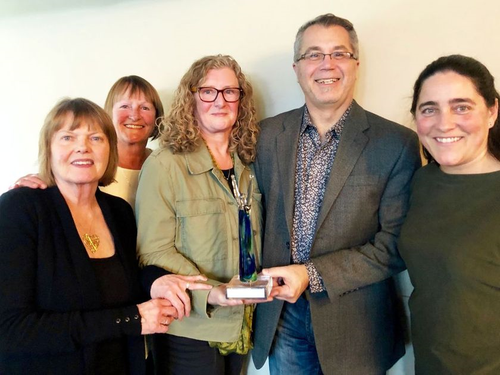 If you are a frequent visitor at our shelter, you may have noticed we have a small staff – 8 Animal Care Attendants, an Administrator and our Adoption Centre Manager. However, for a small organization, we do big things, and this would not be possible without our volunteers. This appreciation post is dedicated to a very active volunteer group in our organization that work their magic behind the scenes. Our Board of Directors.
Our organization is blessed to have such an active and passionate board. Without them, we would not be the organization we are today. Our board is present in our everyday operations, in our programs, in our education outreach, in our funding and development, in our volunteer base and in our events. Each of them is a tremendous support system to our staff and other volunteers. Some have been with the Bow Valley SPCA since we opened 13 years ago, but regardless of the time they have been here, each of them shows utmost dedication day after day.
These 10 individuals that are the backbone of the Bow Valley SPCA – a huge thank you to their unwavering support.