We Did Something Great Together
Mon, 11 Jan 2021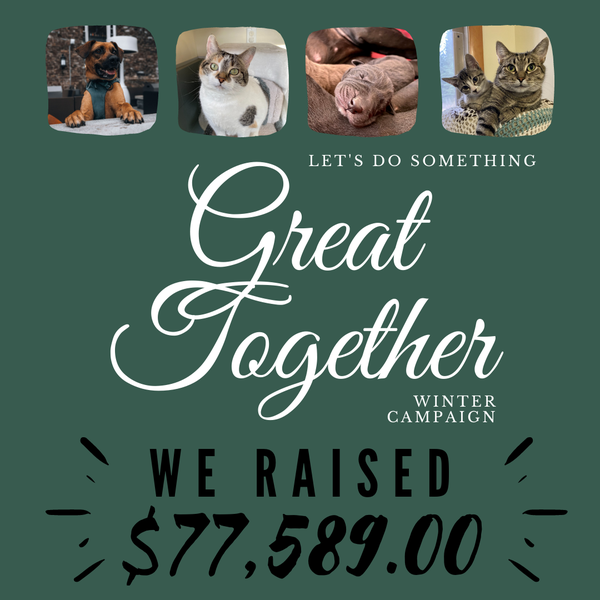 We did something great together!! Thank you so much to everyone that contributed to the success of our Let's Do Something Great Together Winter Campaign! As a community, we met and then surpassed our goal of $75,000. The final total for the campaign was $77,589. All of these funds will be used for rescuing dogs and cats in need, providing medical treatment and rehabilitation where required, and most importantly to providing loving, individualized care until each animal finds their forever family!
This success would not have been possible without the generous matching donations provided by Carla Cumming Sojonky, Hanna Pestell, and our Anonymous Donor. And then we received a pleasant surprise; Heather Edwards donated an additional $5,000 with these words of encouragement, "Keep up all the wonderful work - it really makes such a difference."
We are beyond grateful to our community of supporters who, despite this year being hard on many, pitched in to help us achieve great things, together. Without your support, we could not do what we do. This campaign is a beautiful reminder that in togetherness, we can accomplish big things. For us, that means changing the lives of the animals we rescue, and the people who open their hearts to these rescues. Thank you.