Young Man: Young Dog-- a perfect match
Thu, 23 Jan 2020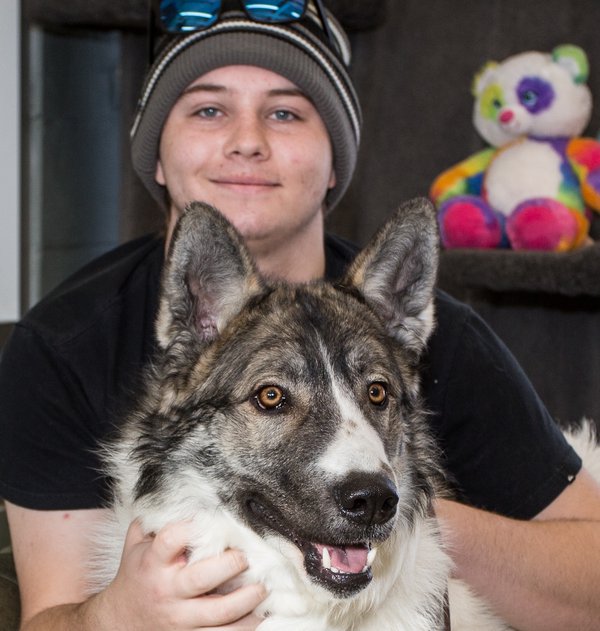 The Bow Valley SPCA first met Murdoch, a 2 month-old, male, Malamute Wolf Hybrid pup when he attended puppy class held at Bow River Veterinary Centre.
Puppies from 2- 5 months learn puppy socialization and basic manners through play interactions. The class is facilitated by Bow Valley SPCA volunteers.
Over the next few weeks, Murdoch grew to be one of the biggest puppies in the class. Always sweet and gentle, he has grown into a one year old, confident, and well-mannered dog.
Craigan, an 18 year-old resident of Canmore was committed to bringing Murdoch to every puppy class and learning along with Murdoch. Craigan's calm, kind and quiet presence was admired by Bow Valley SPCA volunteers, and he was invited to join the puppy class team. Craigan became one of the youngest volunteers with Bow Valley SPCA. He completed the Open Paw program, a force free, positive reinforcement program offered to volunteers at the Carla Cumming Sojonky Adoption Centre.
Murdoch, now a one year old, along with Craigan attended Essential Life Skills Program at Bow Valley SPCA, polishing Murdoch's manners using fun exercises.
Craigan has become a valued volunteer, and along with his pup Murdoch demonstrate how the bond between humans and dogs can grow while having fun and learning new skills.