Block Party Bark-A-Que
Sat, 24 Jun 2023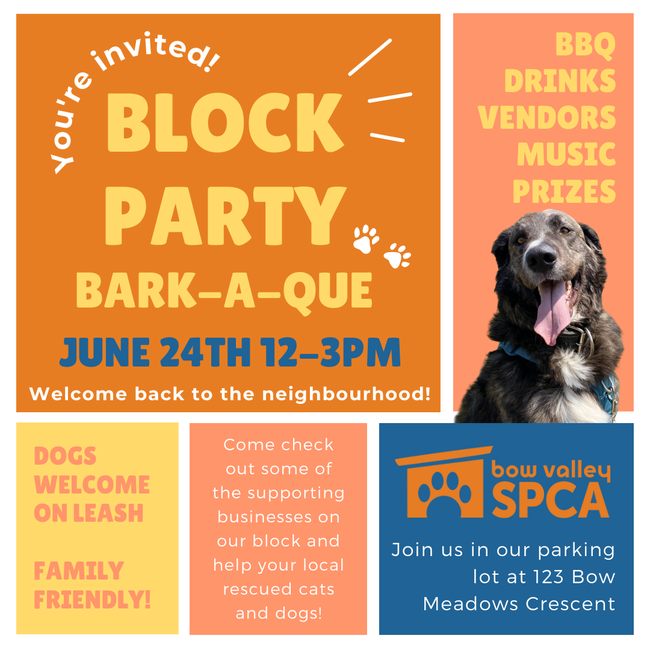 About the Event
After a few years' hiatus, we are excited to announce that our annual Bark-a-Que is making a return! And it is coming back with a twist; it's a Block Party! We want to welcome everyone and their furry friends back to the neighbourhood to visit us, and many of the great businesses from around the block.
Join us for this family friendly event on June 24th from 12:00-3:00PM in our parking lot! Please note that there will be limited parking available, so we recommend walking, biking, or taking public transit to the event.
We have something for everyone, with a BBQ, drinks, vendors from our block (see list of participating businesses below), music (Mari Rosehill), prizes, a scavenger hunt and games for the kids, and more! Come visit our shelter, shop our Shed Shop, cuddle some cats, or bring your dog along on leash to join the party and try out our agility equipment. And the best part is it will all be in support of your local rescued cats and dogs!
A big thank you to Rob Stevens, Realtor for sponsoring this event.
We have a great community supporting us and look forward to seeing you there!
Participating Businesses and Organizations
Thank you to these great businesses and organizations on our block that will be joining in the fun at our Block Party Bark-A-Que!
On-Site Booths:
Mountain Blends Coffee Roasters
Lovely Ice Cream
Rocky Mountain Adaptive
CAMBA Canmore & Area Mountain Bike Association
Sheepdog Brewing
Wild Life Distillery
Donations to Gift Bags, Door Prizes, Other Event Support
Mountain Blends Coffee Roasters
Canmore Cave Tours
Rocky Mountain Soap Co.
Alpine Book Peddlers
Save On Foods Canmore
Hijinx Toy Shop
Rent-A-Tent Canmore
Email:
events@bowvalleyspca.org