Become a Hero to: Asher and Kittens!
Fri, 23 Jul 2021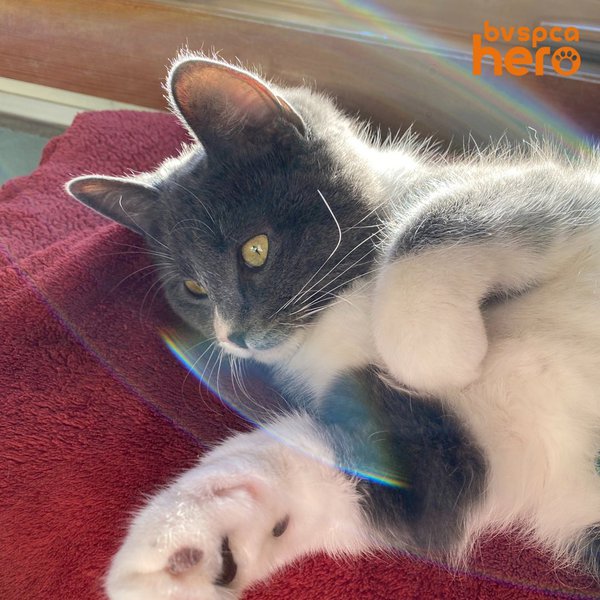 Have you heard about our BVSPCA Heroes? The Bow Valley SPCA wants to recognize our monthly donors. They sure feel like heroes to us, so we are officially naming our monthly donors BVSPCA Heroes! To kickstart the launch, local Realtor Rob Stevens and wife Melissa Hubbard-Stevens will match 20x the first month's donation amount for all new monthly donors and 20x any increase in an existing monthly donors mount joy amount, up to a maximum aggregate match of $5,000, to boost your impact for the month of July! Visit https://www.canadahelps.org/.../campaign/bvspca-heroes/... to become a BVSPCA Hero!
To Asher and her kittens, monthly donors are their heroes! Asher came to us pregnant in mid-March, and gave birth to 7 kittens. Sadly, one of these kittens was stillborn, but we were cautiously optimistic the remaining 6 would thrive. Unfortunately, Asher's usual vibrant and chatty personality was replaced with lethargy, and she was diagnosed with mastitis, an infection of the breast tissue. Sadly, 2 more of her kittens crossed the rainbow bridge despite our best efforts. Asher was in a dangerous condition, and for her health and the health of her babies, we made the difficult decision to remove them from her. Her mastitis continued to worsen, becoming necrotic despite antibiotics, and she needed increasingly aggressive treatment. Once the decision was made to remove her remaining kittens, it became a rigorous schedule of bottle feeding and cleaning! We named her kittens after Land Before Time: Ducky, Littlefoot, Cera and Petrie. Our dedicated staff and volunteers worked day and night to care for these neonatal kittens. Care for Asher didn't stop, and gradually we saw improvement, and a return to her chipper self. The cost of vet bills was enormous, and raising kittens by hand is costly, both in funds and time! This is where your donations are critical. We are thrilled to report that Asher healed completely (remarkably!), and was adopted to a loving home where she has been nothing but spoiled. All her kittens, too, found wonderful homes of their own, and are thriving and living their best lives! Thank you to all the heroes that allowed us to give all these cats the best shot at a second chance!