National Volunteer Week 2023
Tue, 18 Apr 2023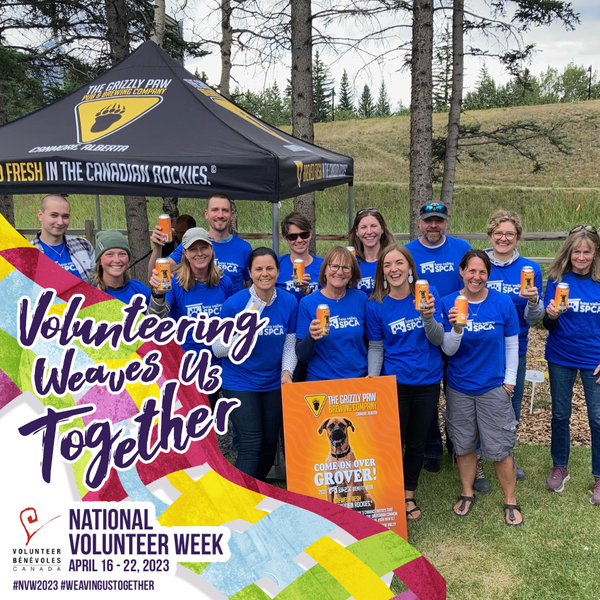 It's National Volunteer Week, and this year, we're celebrating how volunteering weaves us together. We are very lucky to have an amazing community of supporters, and over one hundred incredible volunteers, who selflessly donate their time, energy, and passion, to make our shelter a better place for the furry residents in our care. Our volunteers are woven together through a shared love of animals, and a desire to give a voice to the voiceless. #weavingustogether
We have volunteer positions for all interests and skillsets. This week we are highlighting a few of our primary volunteer roles and their importance.
Dog Walkers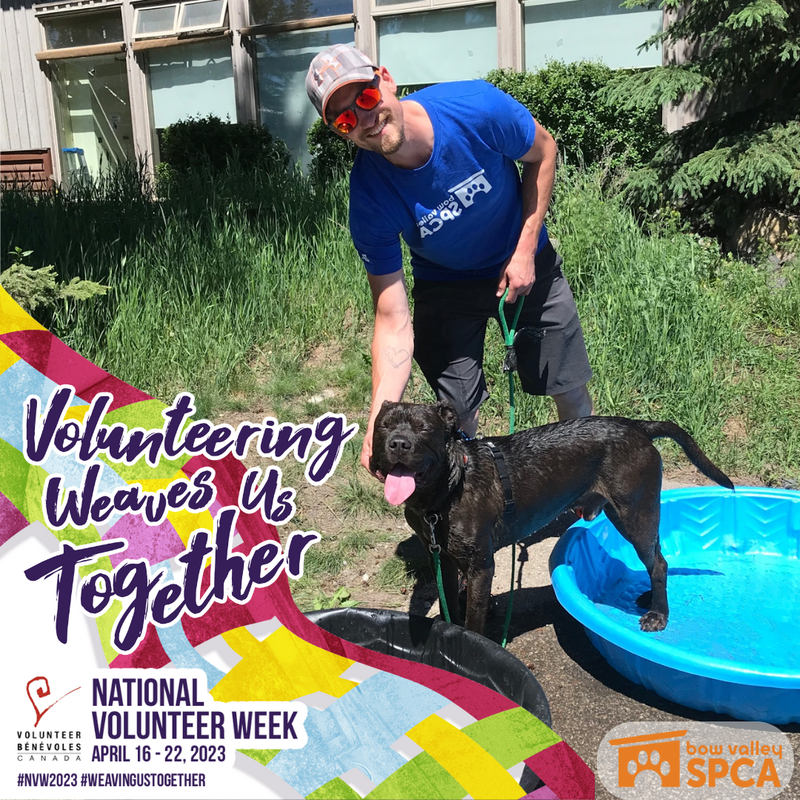 Dog Walkers are critical to providing our residents dogs enrichment, exercise, training, and most importantly lots of love until they go on to find loving forever homes. Our Dog Walkers come rain or shine to get our dogs out for individualized attention and exercise, whether it be a short walk around the neighborhood, some time spent playing fetch in the yard, working on specific training needs, or a daytrip hike to give them a break from the shelter environment. Our Dog Team works very hard to teach our dogs all the skills needed to become the best canine citizens they can be and are truly committed to seeing our dogs succeed! 
Cat Cuddlers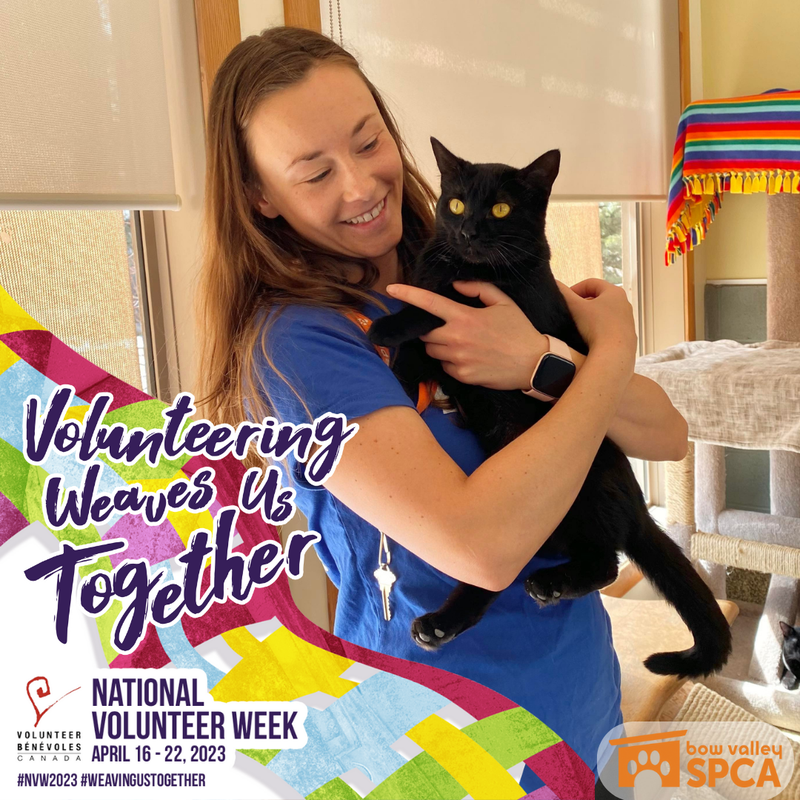 Cat Cuddlers have the important job of socializing our feline residents and make a big impact on these cats finding great forever homes. While all our cats need love, our Cat Cuddlers make the biggest impact on the cats who have had a rough start in life and have trouble trusting people. We often receive feral cats, who have had no positive interactions with humans, and our Cat Cuddlers are some of the first people to show them patience and kindness. Along with giving our timid kitties some extra TLC, our Cat Cuddlers groom our cats, trim their nails, and help them get their exercise by playing with them. They make our cat's lives so much better!
Centre Greeters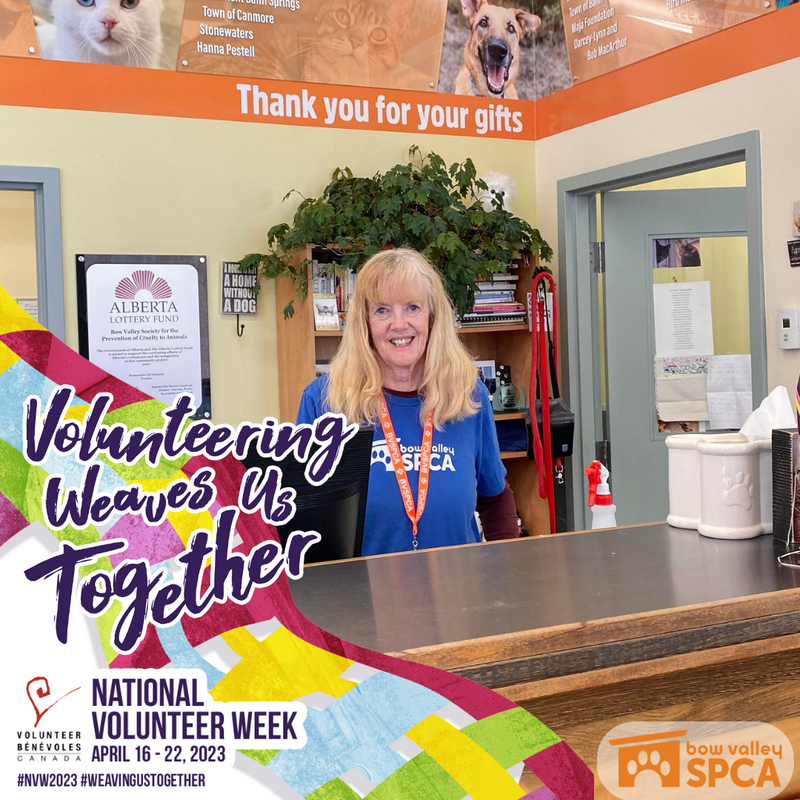 If you've visited our Centre, you would have been greeted by one of our helpful and friendly Centre Greeters, who do an amazing job welcoming the public to our shelter and assisting with reception. Our knowledgeable Centre Greeters are always happy to lend a hand when you visit us. Whether you are here to visit with our adoptable pets, donate, or have questions about our organization, our Centre Greeter volunteers are here to help! 
Event Support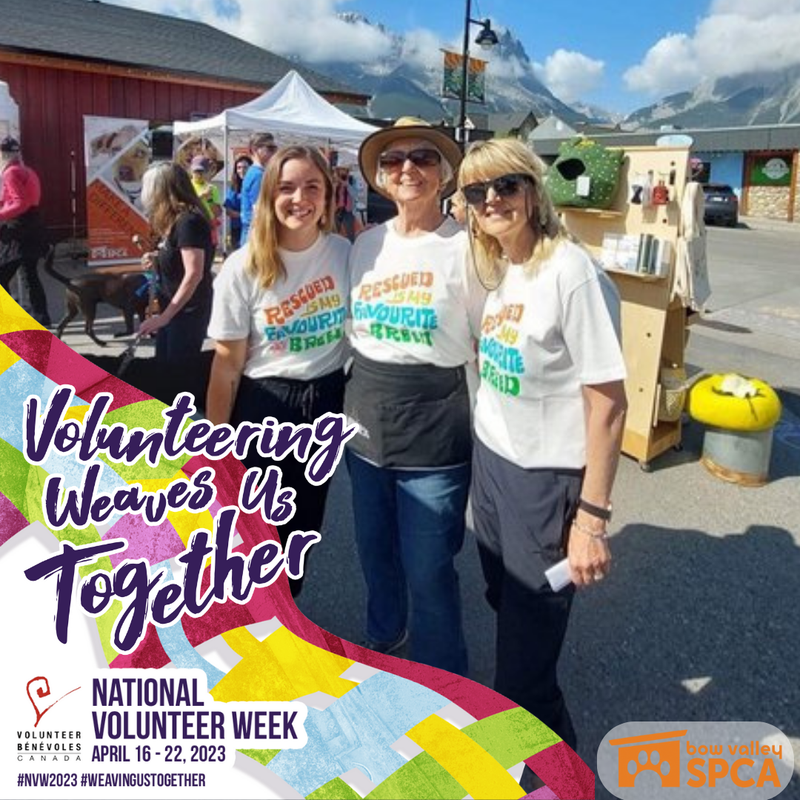 Fundraising events are very important for our organization, and event support by our volunteers are crucial to the success of our fundraising efforts! We host numerous events throughout each year - our Annual Bottle Drive, Tunes for Tails benefit concert, and Santa Photos at the Malcolm, to name a few - and these events are primarily volunteer-run. Many of our volunteers pitch in with whatever we need for each unique event and do it all with a smile on their face, bringing a fun and positive outlook to all our events. While they make it look effortless, these tasks are often time-consuming and hard work, but our fantastic volunteer team brings our event visions to life.
Foster Homes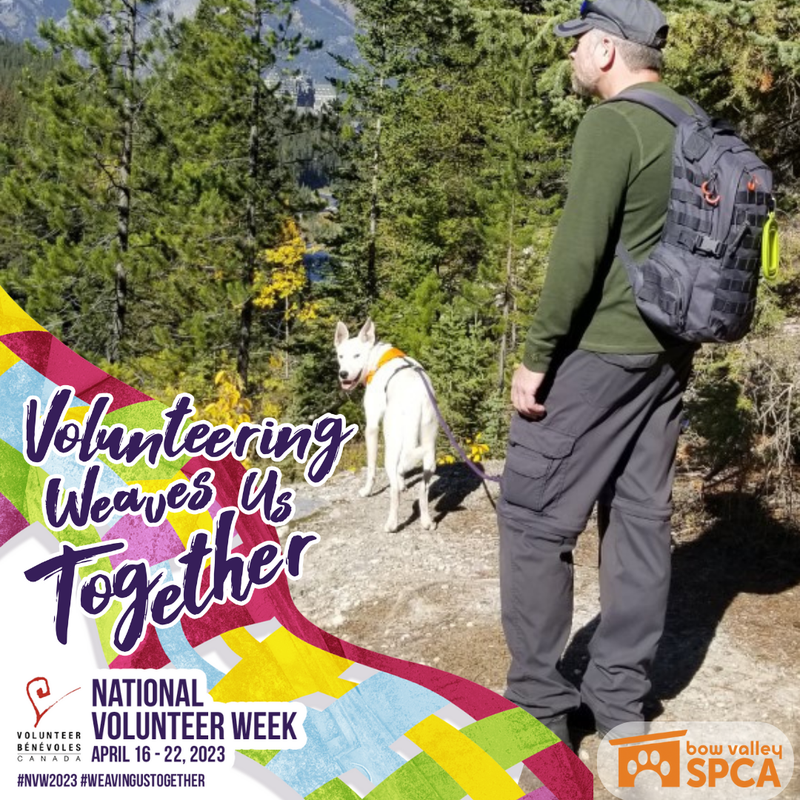 While we are not a foster-based shelter, we seek out qualified and committed individuals to foster animals in certain situations. We mainly consider placing animals into foster care for one of two reasons: because they have a medical condition or injury which requires 24/7 monitoring, or because they are not thriving in the shelter environment (extremely scared cats, high-anxiety dogs, etc.). It is no small task for our Foster Volunteers to take on these animals, who have extensive behavioral or medical needs, but our incredible Foster Volunteers are up for anything. We have seen terrified feral cats turn into loving lap cats, and very sick animals make a miraculous recovery with the extra love and care of our Foster Volunteers. Due to the nature of the animals we place into foster, it isn't uncommon for them to stay with their foster families for a year or longer. Our Foster Volunteers are superstars and help transform extremely challenging animals into adoptable ones and we are so grateful for their immense commitment! 
Community Outreach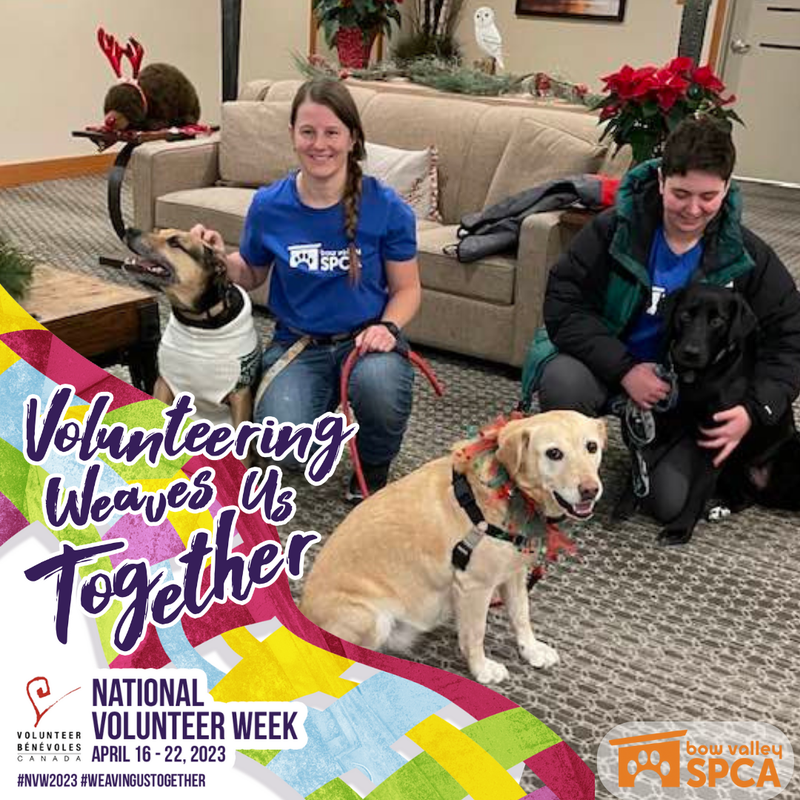 We put a focus on getting out into the community to share our love of animals, and spread education and awareness, and our Community Outreach volunteers play a massive role in this! We have a wonderful Therapy Dog Volunteer Team, who bring their own pets to long-term care homes, hospitals, schools, and staff accommodations, to bring smiles and comfort to the community. We also have Community Outreach volunteers that go into classrooms, or host school-aged kids here at our shelter, to learn about responsible pet ownership, and what we do here at the shelter. These volunteers are often spotted at community events throughout the year, educating about our mission, our adoptable pets, and how to get involved. They do a fantastic job representing our organization, and to help bring us out of the shelter and into the community. 
Board of Directors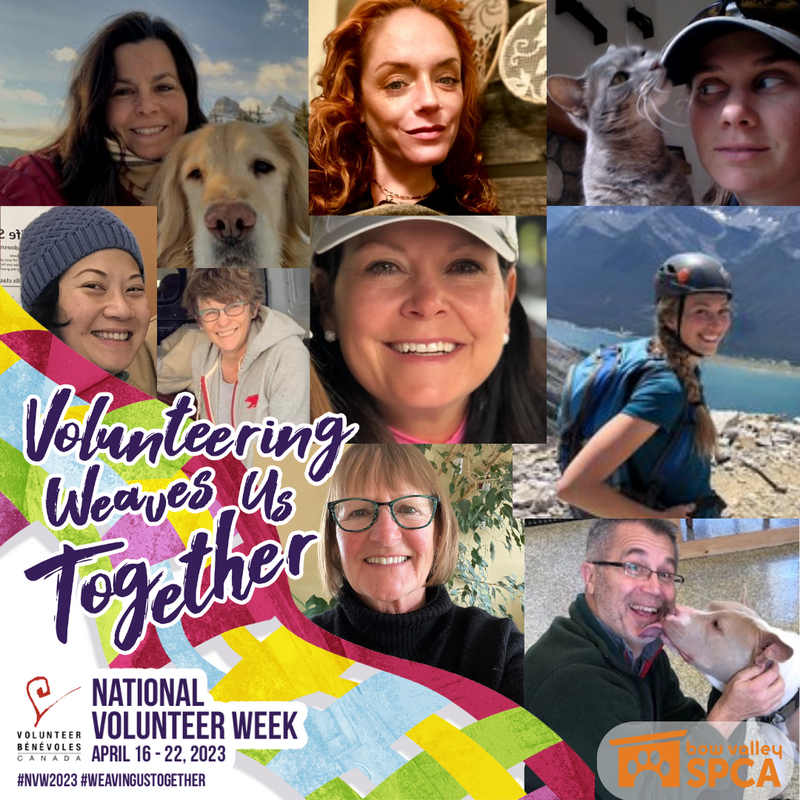 Our Board of Directors are a versatile group of experienced volunteers who each oversee critical aspects of our organization. Each with their own background, skillset, and interests, but all with a passion for animals and commitment to philanthropy, our Board works diligently to grow the Bow Valley SPCA to the best it can be. Head to "Our Team" on our website to learn more about our Board of Directors and their individual roles and expertise.  
And Much More!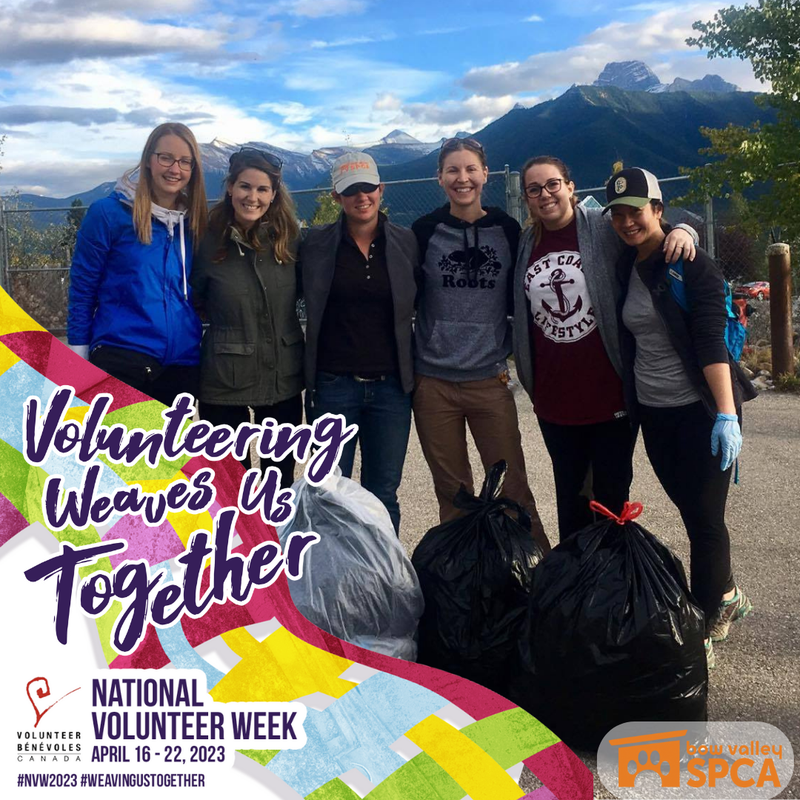 In addition to the primary volunteer roles above, we truly have a role for everyone of any interest! We have animal care helpers who assist with cleaning and feeding, program assistants, administrative assistants, volunteer photographers, general maintenance and yard work volunteers, shed shop organizers, animal transporters, volunteer artists, and much more!